Look around the modern Tudor foyer of Erin Francois, and hear the key updates that made all the difference in their duplex entryway.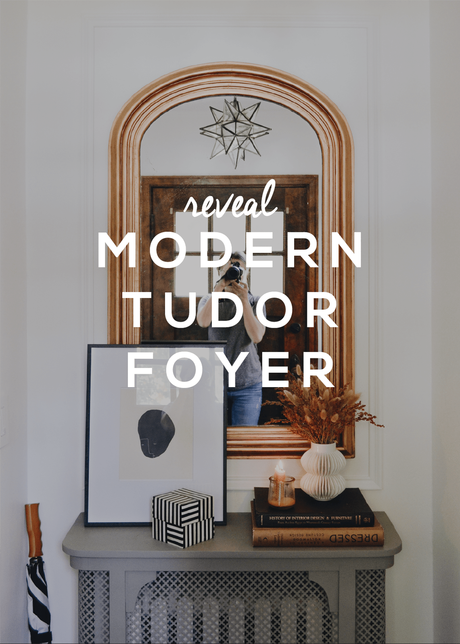 I'm excited to tell you our summer-turned-fall-turned-late-fall foyer side project is finally finished!! When I think back to where we started in here with the cheap, dirty carpeted stairs and plastic runner over top, naked radiator, and beige walls, the room was functional, per se, but it didn't make a good first impression-and that, my friends-is the first thing a foyer should do! It's the first experience someone has in your home, and you want it to be representative of you.
Needless to say, this room didn't flow with the rest of our 'modern Tudor' style. However, we did love the original dark woodwork, the black slate floor the previous owner had installed, and the original front door we refinished a few years ago.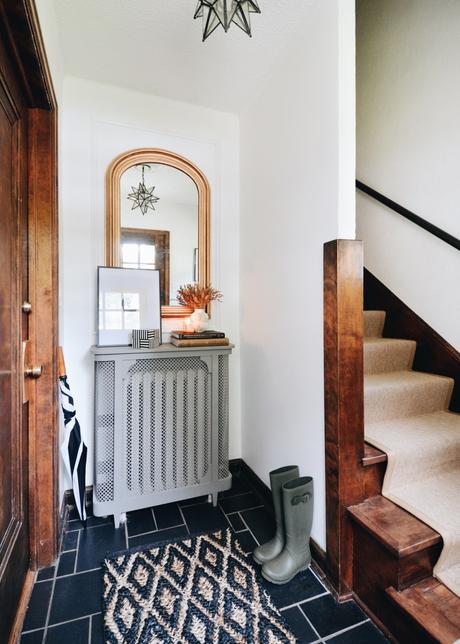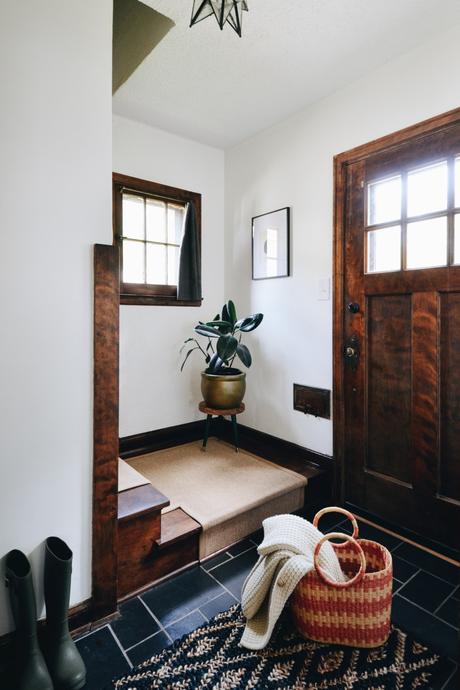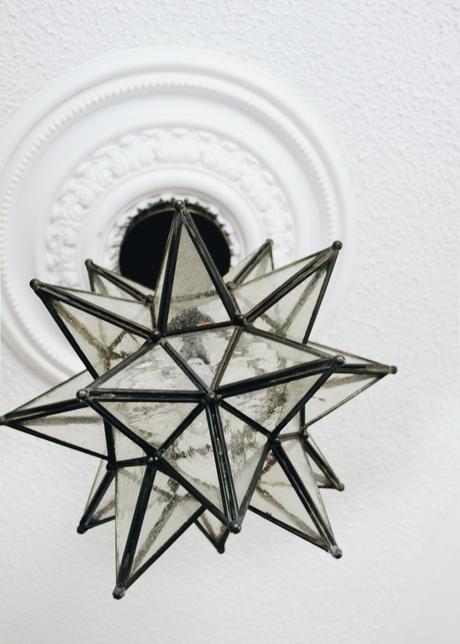 Scope
After nailing down the room's design direction, we got to work on the scope:
Paint all walls Behr/Home Decorators, Whisper White in eggshell finish
Remove carpet/refinish stairs with Varathane, Dark Walnut to match existing woodwork. Read about the foyer mid-renovation.
Install indoor/outdoor runner - Read more on our decision-making process below.
Create a strong focal point on radiator wall.
Design/build a radiator cover to help radiator feel more substantial and function as a console table. Read more about the radiator cover here.
Add ceiling medallion and picture frame molding from Ekena Millwork to enhance home's Tudor charm.
Add motion sensor light controls in the foyer, and a daylight sensor light control for the exterior.
Style with accessories: gilded mirror, art, curtain, and rug.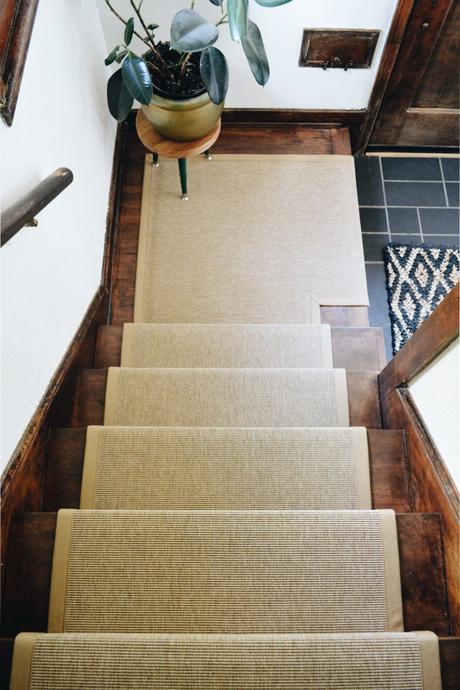 Why A Faux Sisal Runner?
We knew we needed a runner on the stairs to help with slip-resistance (liability with our duplex tenant) and acoustical properties. A runner helps deaden sound in this otherwise hard surface room. But what kind of runner do you use that can hold up to snowy winter boots and all the like?!
We went with an indoor/outdoor grade runner made of polypropylene from Sisal Rugs Direct. (Pattern: Belize, color Dune). The runner is:
Mold/Mildew Resistant
Easy to Clean
Durable - Because it's extremely tightly woven it'll put up a good fight if our cat, Gideon takes an interest in it.
Designed for Stair Turns and Landings - Our stairs have 3 landings + 2 turns, and Sisal Rugs Direct made it really easy to order a runner to fit our specific stair design.
Also, Sisal Rugs Direct is a local Minnesotan company! I love using local companies whenever possible, and these guys make their rugs right in Excelsior, MN. (And the crowd goes wild!)
We installed the runner using a staple gun attachment to our pneumatic air compressor. With Ken and I working together I'd say we had the carpet pad laid, the tape guidelines marked, and the runner laid in about 3 hours. Yellow Brick Home has a FANTASTIC and thorough tutorial on how to install the runner.

Gilded Mirror
If you remember my inspiration images at the start of the project. I envisioned a French-style mirror above the radiator, and while I didn't find anything quite as grand that fit our budget, I did find an amazing old mirror on Craigslist for $75. It's so solid with authentic aging on the mirror. It was wood when I found it, so I did alot of research on how to properly guild it.
I didn't want to use spray paint or gold leafing as they wouldn't give it the aged, nuanced look I was after, but I finally landed on a product called, Rub n Buff, that hardens onto the wood surface giving it this old, gilded look. It bonds so well that you can actually wipe it down without altering the finish.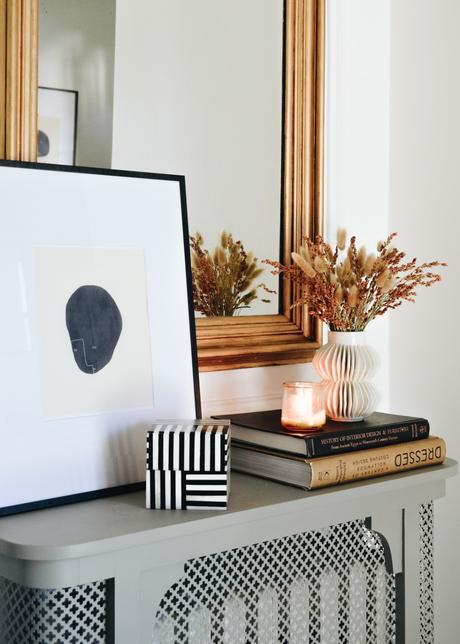 Final Accessories
As you guys can probably attest, by the time you finish renovating a room, you're often exhausted/sick of thinking about the project , and the idea of making more decisions about art, rugs, accessories, etc. might seem like something you should just skip. But accessories really help spaces feel finished, so take a time-out on the room if you need to, but make sure they don't get overlooked.
The entry rug adds pattern, both visually and audibly soften the room, as well as the most obvious function of providing a spot to wipe feet.
The art is a printable from My Paradissi's etsy shop. She has amazing graphic art that's really affordable. The two pieces in here were $11 TOTAL for the two.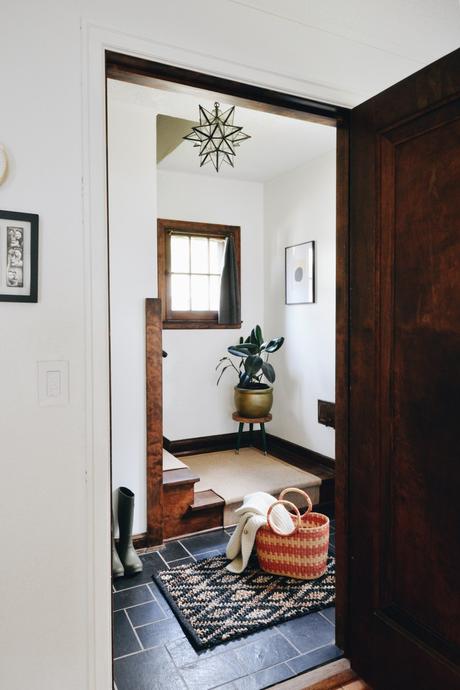 Keep Reading: