Published as:  Get Funkis What's the secret to successfully wedging a kitchen into a 258-square-foot apartment? A visual balancing act.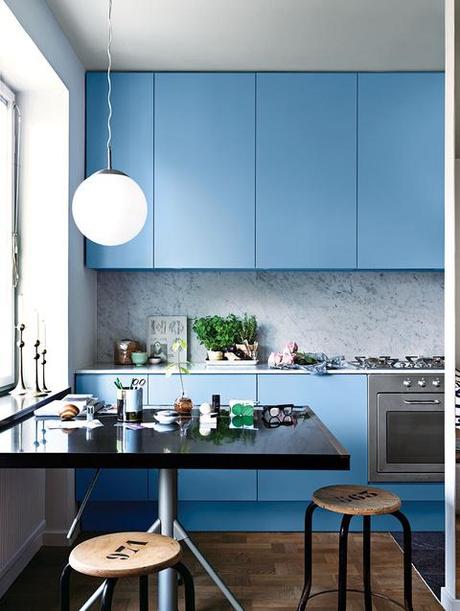 The sink and faucet—notice their reflection in the glass—are by Mora Armatur. Resident Saša Antić purchased the stool from local vintage shop Dusty Deco. A retro Ikea pendant lamp hangs above the kitchen table, which is an architect's drafting board Antić found at Grandpa, another store in his neighborhood. Photo by: Jonas Ingerstedt
Interior stylist Saša Antić has lived in his Stockholm, Sweden, apartment for 15 years. It was built in 1938, during the height of funkis, the colloquial term for Swedish functionalism—a movement characterized by clean lines and a lack of ornamentation. When he recently decided to update his tiny kitchen, Antić devised a modern scheme that honored the apartment's heritage. "I wanted it to be really graphic but quiet and beautiful," he says.
Antić explains that the secret to living in a small area lies in eliminating visual clutter, not just by culling objects, but also by balancing design elements. He requested an extra-thin slab of Carrara marble for the countertop so that it would recede into the space, not overwhelm it. The room is outfitted with cabinets from Ikea, painted a serene powder blue— a custom shade matched to one of Antić's favorite cashmere scarves. A compact stove and oven by Smeg is integrated with the cabinetry and countertop so they read as a cohesive unit. A floor-to-ceiling mirror placed at one end of the kitchen makes the space feel longer and reflects natural light from the window directly op-posite. A well-edited collection of vintage furniture and accessories purchased at local shops completes the room. "I didn't want too much stuff going on," Antić says. "In a small space, everything is on display all the time. It's important to have things really tied together."