Yrjö Kukkapuro, one of Finland's design legends, is primed for an international resurgence thanks to a new furniture collaboration with Artek.
Slideshow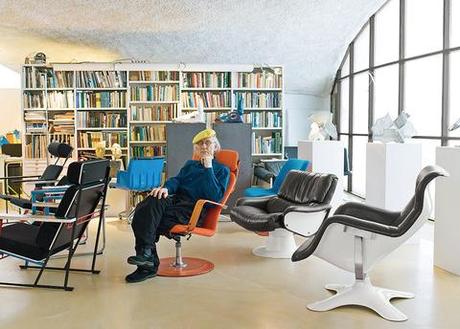 Yrjö Kukkapuro reclines in his 1976 Fysio chair in the open sitting area of his live-work home outside Helsinki—a perfect time capsule of the Pop art–influenced 1960s. He is surrounded by products from his six-decade career, including a molded fiberglass-and-leather Karuselli lounge chair, designed in 1964 and soon to be reintroduced by Artek.
The 81-year-old Finnish designer Yrjö Kukkapuro greets us at his front door wearing a navy sweater, a jaunty red scarf, and a wide grin. His outfit ever so precisely matches the blue and red exterior panels on the street-facing facade of the house he built in 1968, as well as a lawn sculpture positioned near the entry. He's a living Gesamtkunstwerk, a total work of art, who lives as he labors, even into his ninth decade. 
Kukkapuro and his wife, Irmeli, met in Helsinki's Institute of Industrial Arts, were engaged within two months, and married in 1956. The couple have adjoining studios in the open-plan, 2,150-square-foot structure, which they use as laboratory for a continuous flow of work. A closet area, cordoned off by lively patterned hanging textiles, is the de facto foyer for the space, which features no walls—only mobile barriers in the form of bookshelves and furniture. And the furniture is everywhere: arranged in casual seating groups, standing at attention in soldierly rows, stored out of reach on top of cabinets, and, piled into a corner once occupied by the Kukkapuros' daughter, Isa. (Isa, in a fit of teenage pique, rejected her parents' bohemian attitudes and was granted a room of her own near the kitchen. Her parents removed the enclosure as soon as she left home, though one can still see the imprint left by the temporary walls in the textured polyurethane ceiling.)
In the 1960s, Kukkapuro says, it was "really fashionable for architects and artists to live in old factories" in order to inhabit spaces large enough to accommodate a live-work lifestyle. Since the Finnish capital lacked urban loft space, Yrjö and Irmeli decided to create their own studio-cum-residence, but closer to nature. The Kukkapuros obtained the land, situated nine miles outside Helsinki in the wooded suburb of Kauniainen, from Irmeli's father. Yrjö acted as the architect for the project and worked with closely with engineer Eero Paloheimo to create the basic form. Inspired by a curved concrete awning spotted on a factory, they at first considered re-creating such a roof in fiberglass, but at 10,000 Finnish markka (roughly $21,000 in today's currency), it was too expensive. To save money, they ended up using eight-centimeter-thick, poured-in-place concrete backed with spray-foam insulation. The roof's graceful parabola is so mathematically perfect that no interior columns are needed—the lone pole, placed in the center of the structure, is used mostly by the Kukkapuros' grandchildren for climbing.
Even as an industrial design student, Kukkapuro fabricated his own prototypes, and still lives surrounded by in-process models and entries from his extensive archive. "It's easy to inspect and update one's own works when they're at hand all the time," he says. Among those visible are his hallmark piece, the Karuselli chair and ottoman from 1964. The seat—a piece of free-form fiberglass sculpture fitted to the shape of the human body and upholstered with a detachable leather cushion, all set on top of a swiveling, crossed base—brought Kukkapuro international acclaim and earned him accolades from Terence Conran and Giò Ponti, who featured it on the cover of his magazine Domus in 1966. Karuselli, which means "merry-go-round" in Finnish, was recently announced as the first of his designs to be produced by Artek, the manufacturer founded by Alvar Aalto in 1935.
Kukkapuro first learned about ergonomics in 1958 via a lecture on the physiology of chairs based on a study by the Swedish doctor Bengt Åkerblom. From that point, body-conscious design became not just an interest but a crusade. Karuselli's curves inform his entire oeuvre, from the upholstered Ateljee collection (1964) to several office chairs (Plaano, 1974; Fysio, 1976; Sirkus, 1981), to even later experimental seating like Funktus (1991) or Bambu (2002). And like any good modernist, Kukkapuro's pragmatic design extends to his choice of materials. His early experimentation with fiberglass and plastics was driven by two simultaneous interests: free-form sculpture and cutting-edge technology. He was heavily affected, however, by the 1973 oil crisis and immediately turned to alternate fabrication methods that didn't require petroleum, like metal and bent plywood. Birch—prevalent in Finland and a material commonly employed by 20th-century designers—is a highly renewable resource that's ideal for pressing into sheets of plywood. More recently, Kukkapuro worked on a UNESCO-funded project in China with the aim of finding modern, industrial applications for bamboo—which, like birch, grows quickly and can be used for furniture as well as fiber.
Above all, Kukkapuro touts functionality: The materials, the manufacturing process, and the end result should be logical and user-friendly. Accordingly, his design career is inextricably tied to industry. "For design students, the factory is the best university," he says. "My experience of visiting factories taught me all about practical matters of design."
Finnish design is, at present, primarily spread through the global reach of three companies: Artek, Fiskars, and Marimekko. With Artek now manufacturing and exporting the Karuselli chair—and assessing which pieces from the designer's catalog to produce next—Kukkapuro's name may soon be recognized the world over. Isa Kukkapuro-Enbom, who is also deeply entrenched in the Finnish design scene and is now helping to manage her father's affairs, says: "I believe that his legacy has not evaluated to its full appreciation. He's one of the last modernists still living."
For now, championing that legacy is Kukkapuro's main task. The designer injured his hand in a roofing accident at age 75, so a student comes to the studio two days a week to help him sketch chair models on the computer. Yrjö and Irmeli go to their neighborhood's outdoor gym every day for exercise, and host a steady stream of visitors to the studio, which has become a sort of living museum. And for a man who wrote a significant chapter in Finland's design history, he wants to ensure that the credit is not given to him alone. He stops us on our way out the door to stress the importance of the productive, harmonious relationship he shares with his wife: "Without her work, it's difficult to know how my designs would look."