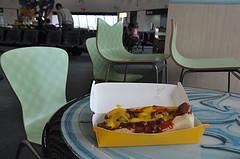 A recent study published in Science Daily indicates that the key to being a healthy business traveler is to travel with moderate frequency. Research conducted by Columbia University's Mailman School of Public Health finds that those employees who travel more than 20 days a month and those that do not travel at all are more likely to exhibit poor health conditions than those who travel one to six days a month.
The unhealthier frequent travelers were found to suffer from:
Obesity
Heart Disease
High Cholesterol
High blood pressure
According to Wall Street Journal's The Middle Seat Terminal blog, these conditions result from common traveler behaviors: eating poorly with high-fat, low-fiber, high-calorie meals, lack of sleep, too much sitting, and high alcohol consumption. To combat these tendencies, travelers are advised to travel with healthy snacks and to order healthier prepared foods (Smart Women Travelers and About.com offer practical suggestions in this area), and to take advantage of the fitness centers and exercise options through many hotels.
One silver lining for globetrotters: researchers consistently found that "health outcomes were worse for those not traveling than those traveling the most."
How do you stay fit while you travel? 
Photo by permanently scatterbrained.