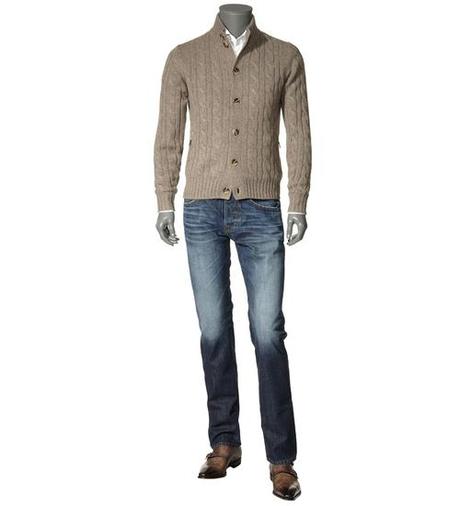 I've been wanting to get a mock neck cardigan for about a year now. Mock necks, as you probably already know, are a kind of neckline that stands up, rather than folds over. They're typically seen in knits, but also sometimes come featured on coats and jackets as well. I think they add the sort of panache that a popped collar would, but without having make you do something as obnoxious as actually popping your collar. As Mike hilariously put it last year, "every time you pop your collar, a kitten somewhere starts fist-pumping." And it's true. 
I first got the itch for a mock neck cardigan after seeing it on the store manager at De Corato. He had on a dark green cable knit version with a pale blue shirt and pair of khakis. I thought it was a rather nice, sporty look. A few months later, this picture of AKC popped up on LAS' blog and I put it in my mind that I should try to get one.
Unfortunately, for a while, I wasn't able to find a decently made version at an affordable price. There were these by Fedeli, which you see in this post, but I think they cost something like $750, which was too rich for my blood. About a month ago, however, I picked up this Drumohr and it's exactly perfect. Made in Italy, heavy thick wool, extremely well constructed, and fits both like a jacket and like a knit. It's probably one of my favorite purchases in the last month or so.
Yoox is having a promotion right now for 10% off and free shipping on fall/ winter collections. Use the code JUMPSTART at checkout, but note that it expires on September 3rd. 
If you buy one of these, go true to size, and if they run out of the 34s and 38s, know that I'm returning one of each (I'm keeping the 36). The other two should pop back up on Yoox in about a month, I imagine.