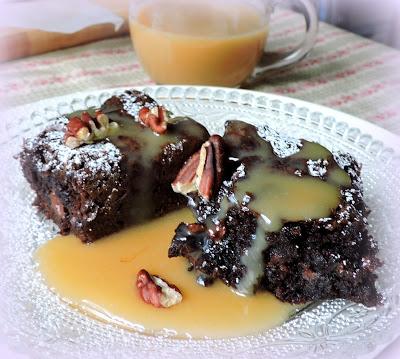 Its all about the dad's in the kitchen today!  Happy Father's Day to all you dad's our there in blog land!  Its time to pull out the stops and spoil our fathers a little bit and there is nothing like some lovin-from-the-oven to do just that!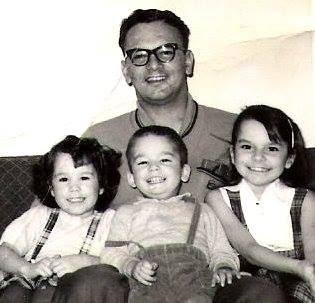 I haven't seen my dad for probably 8 or 9 years now.  I haven't been back home now for quite a while.  He was away the last time I was home, which was about 5 years ago now.  I miss him. Not a lot I can do about it either as finances are kind of tight, but he knows I love him, and that if I could be there I would be there.  He would absolutely love these brownies though!  He has always been one of my biggest fans, and loves my cooking.  Dad, these are for you!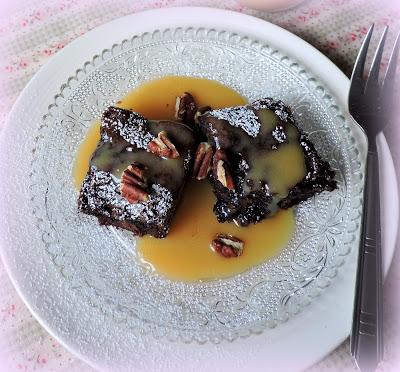 These are beautifully rich and decadent brownies, moist and delicious, stogged full of two kinds of chocolate and toasted nuts.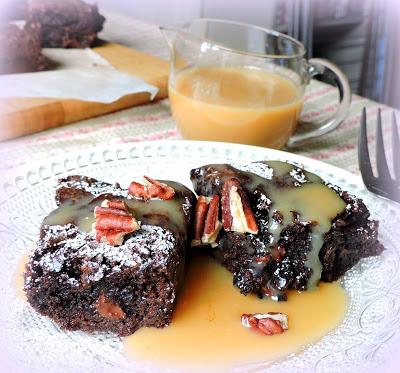 Today I used toasted pecans, but toasted walnuts are equally as good.  They add a tiny bit of texture and crunch. There are some in the brownies, and you sprinkle some over the brownies when you go to serve them.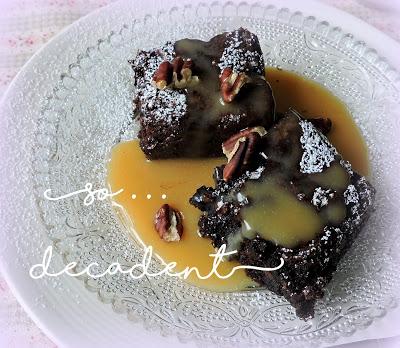 I don't know why chocolate is so difficult to photograph, but it is.  I took the liberty of sprinkling the brownies with a bit of icing sugar today so that they would photograph better and I actually liked the way it worked.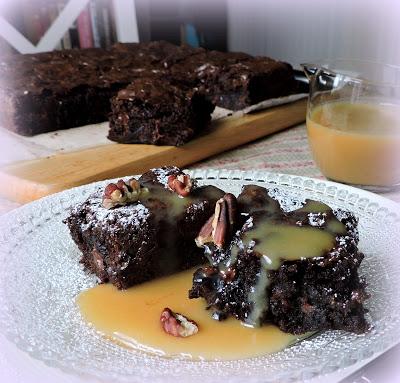 There is also some strong coffee in the brownie batter. Not a lot, just a hint.  Coffee really helps to enhance chocolate flavours. They have a perfect chemistry and affinity for each other  . . .  maybe that is because they are both beans . . .  coffee and cacao. You don't really need a lot of it to do it's job.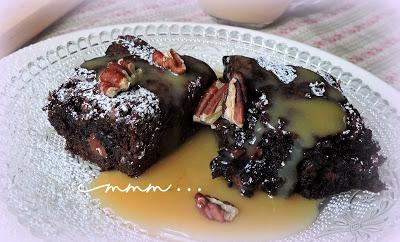 But that is not where all the deliciousness stops  . . .  there is also a decadent white chocolate and mocha sauce as well . . .  you spoon this over the warm brownies  . . .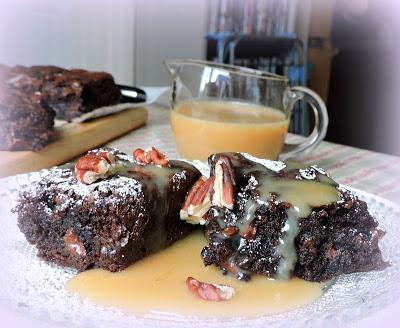 Oh boy but it is some good.  Rich, creamy . . .  sweet, and again with just a hint of coffee.  You won't need a lot of it on your brownies, a little goes a long way . . .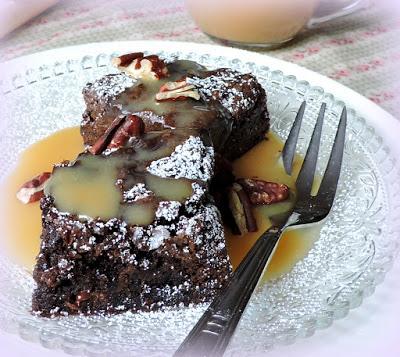 Rich, chocolatey, mocha-ey, decadent . . .  moist . . .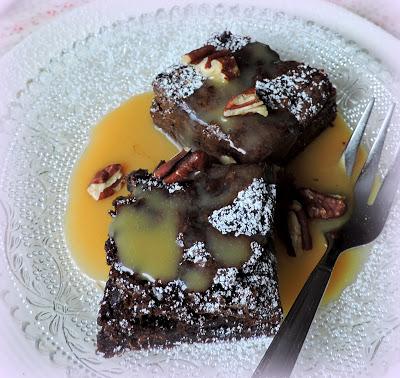 Don't get me started on the nuts . . .  I know, who did I make these for anyways????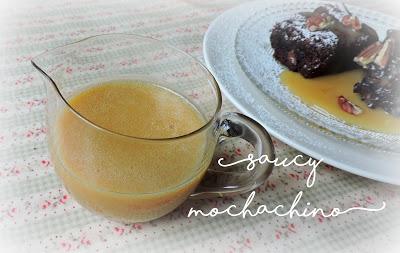 Yes, its true Todd doesn't like chocolate, so I guess they aren't really for him.  *Innocent-look*  I confess, I will have to give them away as much as I might want to eat them myself, I really shouldn't . . .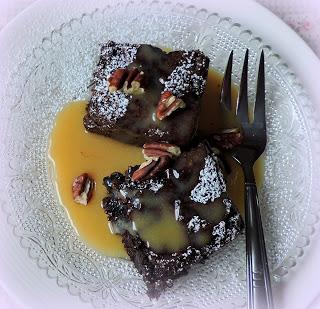 *Mochachino Brownies with White Mocha Sauce*
Serves 8 - 9
Printable Recipe  
For the Mochachino lover in your life. You can leave out the nuts if you wish. 
For the brownies:
120g unsalted butter, plus extra for buttering the pan (1/2 cup)115g plain chocolate (4 ounces)2 TBS extra strong black coffee250g golden caster sugar (1 1/3 cups)1/2 tsp ground cinnamon3 large free range eggs, beaten85g plain flour (1/2 cup + 2 TBS)55g milk chocolate chips (1/4 cup)55g toasted walnuts or pecans (1/2 cup) (optional)Plus more to decorate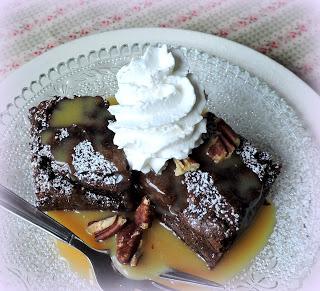 For the sauce:
100ml double cream (3 1/2  fluid ounces)85g white chocolate (3 ounces)1 TBS strong black coffee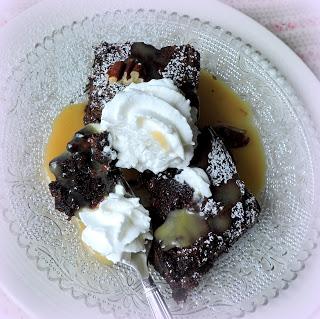 Preheat the oven to 180*C/350*F/ gas mark 4.  Butter and line a 9 inch square baking tin.  (I like to leave an overhang to lift the brownies out with once they have cooled. Makes it easier to cut them.)  
Melt the chocolate, coffee and butter together in a saucepan over low heat, stirring, just until the mixture has all melted and is smooth.  Cool slightly. 
Whisk in the sugar, cinnamon and eggs, one at a time.  Beat in the flour, chocolate chips and walnuts/pecans if using.  Pour into the prepared pan. 
Bake in the preheated oven for 30 to 35 minutes, just until firm, but still moist. Cool completely in the pan on a wire rack.  Lift out and cut into squares for serving. 
To make the sauce, put all ingredients in a small saucepan, and place over low heat. Stir occasionally until melted and smooth. 
Place the brownies onto individual serving plates and spoon the warm sauce over top. Sprinkle with additional toasted nuts, if using, and serve immediately.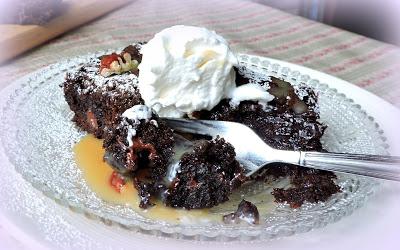 I wasn't going to put any cream on top, but then I just had to see how it looked (and tasted) and so I did.  WOWSA!  Incredible!   Happy Father's Day and Bon Appetit!