Last week's 59th edition of Cannes Lions, the biggest international festival of creativity, introduced the Mobile Lions awards category, celebrating the recent boom in mobile advertising and the new technology opportunities it brings. Over 965 creative works were submitted to the Mobile Lions jury in 9 categories from agencies worldwide.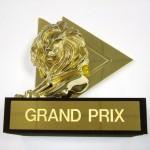 Recipient of the Gold Lion award in the "Rich media advertising for mobile devices" category, was Mystery Ad, by YOC, Europe's leading mobile technology and media provider.
The category honors the best creative work on mobile devices.
YOC's winning campaign for a new Nokia handset was delivered using Smart AdServer's mobile solution in Q1 2012, with an ad format designed by YOC.
Smart AdServer supplied the specific mobile ad format enabling the ad display as well as the ad serving on all targeted mobile devices.  The campaign achieved an incredible click-through rate of 29.7%, much above average mobile CTR.
Smart AdServer is committed to helping our customers deliver the most innovative and captivating ad experience on mobile.  The common collaboration of our technical teams resulted in providing YOC with a specific mobile ad format, HTML5 compliant, able to display the ad on both mobile web and applications for all targeted mobile devices.
Their success serves as a powerful example of what can be achieved with our mobile ad server.
 NB: This post was actually  published the day the blog was launched, i.e on September, 10