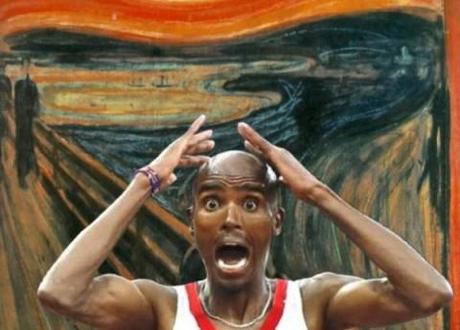 Mo Farah, the internet's new meme hero
The background
Long-distance runner Mo Farah was one of Team GB's biggest stars at London 2012. The Somali-born Brit showed remarkable physical and mental fortitude to win two gold medals – in the 5,000 metres and 10,000 metres. Farah's 'Mo-Bot' signature celebration quickly become one of the unforgettable images of the Games.
Mo the meme
Mo-mania has spawned a meme – Mo Farah Running Away From Things. Photoshopped images of Farah running for dear life are collected on the Mo Farah Running Away From Things tumblr page. There you can him being chased by knights, Teletubbies, Pamplona bulls, the huge rolling ball from Indiana Jones And The Raiders Of The Lost Ark and lots of other dangers.
"Congratulations to illustrator and graphic designer @Luke_Spee for creating what is surely a contender for tumblr of the year," praised Huffington Post UK.
Here is The Periscope Post's pick of the best Mo memes