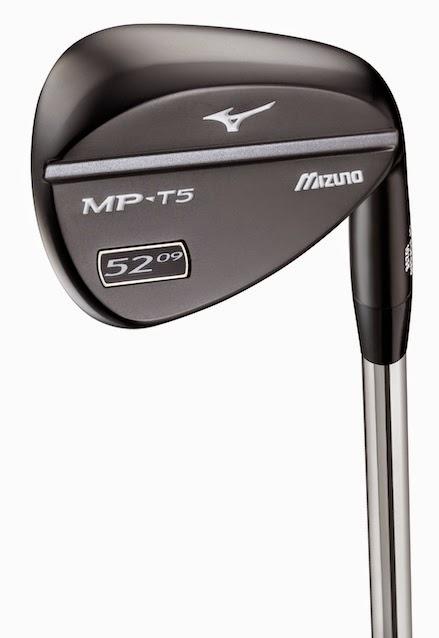 Detailed Input from PGA TOUR Pro Luke Donald Allows for Greater Mastery on the Greens
Norcross, Georgia – (September 25, 2014) – Designed from insight from PGA Tour professional Luke Donald, Mizuno unveils the latest 'players' teardrop wedge, the MP-T5.
Featuring Mizuno's patented Grain Flow Forging and incorporating loft-specific groove geometry and loft-specific sole grinds, the versatility and high-spin capability of the MP-T5 wedges provide players with a superior soft, solid, and consistent feel for ultimate playability.
The 25 different loft and bounce combinations of the MP-T5, which ranges from 49-to-62 degrees for both left and right-handed golfers, leads the industry with an incredible 50 options all available through Mizuno's proprietary Performance Fitness System (PFS).
"Simply put, the MP-T5 wedges will be the envy of the golf world by utilizing our key competitive advantages of grain flow forging and our industry-leading fitting system" said Chuck Couch, VP of Product Management, Golf Division. "With over 50 wedge combinations to choose from, we're poised to take the golf world by storm and believe players will be thrilled with the performance and feel."
The MP-T5 features a CNC face milled to the maximum roughness as allowed by the USGA, along with Mizuno's exclusive QUAD CUT GROOVE technology, which enables the precise control of the width, depth, draft angle and shoulder radius of each groove to deliver maximum spin control and ball stopping ability in all playing conditions.
The MP-T5 wedges are available in two durable right-hand finishes – White Satin and Black Ion, where the left-hand is available in the White Satin only. The MP-T5 wedges are available at golf shops nationwide. Watch Luke Donald's reaction to the new wedge and a product overview from Mizuno R&D.
More information about the MP-T5 and 2015 products is available at www.mizunogolf.com. Connect with Mizuno on Facebook and Twitter @Golf_Mizuno to keep up with product news, Tour updates and custom content and fitting tools.
Standard Stock Right Handed Lofts: 50-07, 52-09, 54-08, 54-12, 56-10, 56-14, 58-08, 58-12, 60-06, 60-10. [15 additional lofts and bounce combinations are available through custom order.]
Standard Stock Left Hand Lofts (White Satin Only): 50-07, 52-09, 54-08, 54-12, 56-10, 56-14, 58-08, 58-12, 60-06, 60-10. [15 additional lofts and bounce combinations are available through custom order.]
Shaft: True Temper® Dynamic Gold® – "Wedge" Flex
Grip: Exclusive Golf Pride® M-31 360 58 Round
Other options available through Mizuno's Custom Department. Suggested Retail Price (Steel Shaft): $129.99
About Mizuno USA
Mizuno USA, Inc. is a wholly owned subsidiary of Mizuno Corporation, one of the largest specialty sporting goods manufacturers in the world. Mizuno USA, Inc. manufactures and distributes golf, baseball, softball, running, track & field, and volleyball equipment, apparel, and footwear for North America. Mizuno USA, Inc. is based in Norcross, Georgia.