When you are into baking bread, every opportunity for you to practice counts.  I spotted yet another no knead artisan bread shared by a FB member and since I bought a pack of mixed seeds, it will be a good opportunity to use it.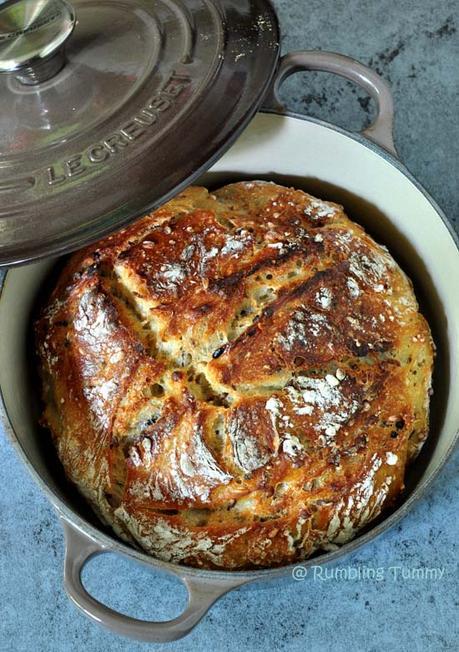 Am pretty pleased how this Mixed Seeds no knead bread turned out. 
Findings: I replaced the water with water kefir 2nd ferment.  The dough ferment beautifully overnight.  Must heavily floured the work area because the dough was very sticky.  I used a dough scrapper to form into a ball but after that 30 mins rest, it sort of spread out again and I had to quickly shaped it back into a ball before putting it into the hot dutch oven.
What you need:
270g unbleached all purpose flour
70g wholemeal flour
10g
salt
½
 tsp yeast
1
½
 cups water kefir 2nd ferment
100g mixed seed, soaked with 50g water

Method:

In a large mixing bowl, whisk together flour, salt, yeast and mixed seeds together.
Add water and mix until a shaggy mixture forms.
Cover bowl with plastic wrap and set aside for 12 - 18 hours or overnight.
Preheat oven and cast iron pot to 230°C.
Meanwhile, pour dough onto a heavily floured surface and shape into a ball.
Cover with plastic wrap and let set while the pot is heating.
Remove hot pot from the oven and drop in the dough.
Cover and return to oven for 30 minutes.
Remove the lid and bake an additional 15 minutes.
Remove bread from oven and let it cool on a cooling rack.
If you have enjoyed this post by
Rumbling Tummy
, be sure to follow this Rumbling Tummy on
Facebook
, Instagram, Pinterest, Twitter and
Google+
.