I don't know about you but I love buying mixed metal jewelry because they're so versatile! The most common base tones in jewelry are gold and silver, and most often we match our outfits based on those factors. Silver and gray tones may clash with yellow and gold tones, but if it's part of the design, that becomes an ultimate gamer changer

. The T.R.U. Egyptian Cross Pendant Necklace below is one of my favorite styles because in addition to the gold and silver tones, it has a medley of different color accents—semi-precious sodalite and Swarovski topaz (orange-y) hued beads. This gives you a limitless selection of outfits to work with and for the practical shopper who loves getting the most bang for your buck, that is one of the important characteristics to look for in an accessory!
Here's a fashion conundrum: You have a clutch or purse that is silver but you only have gold shoes (or vice versa). What to do?
Answer: It's not as hard as you think. Simply choose one or two mixed metal accessories and it will bring the whole outfit together, voila! If you don't own anything of that sort, you'll want to try the Golden Foil Hematite Bracelet or the Metallic Heights Bracelet seen below: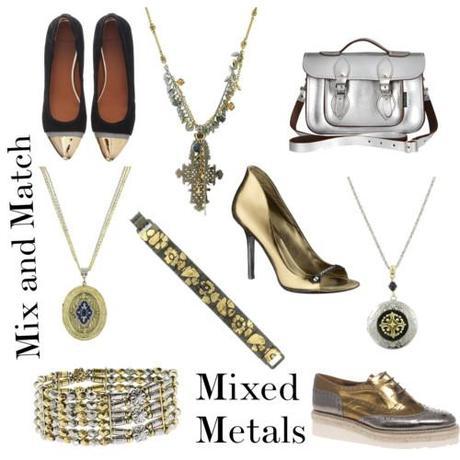 Are you a mixed metal jewelry fan? If not, please explain

. If you are, please let us know how you love to wear them!
Have a fab Thursday!