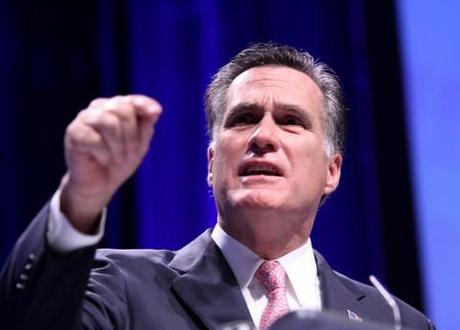 Mitt Romney
. Photo credit: Gage Skidmore, http://flic.kr/p/9itUtP
The background
Mitt Romney officially accepted the GOP presidential candidacy with a much-anticipated speech at the closing night of the Republican National Convention in Tampa. As The Periscope Post explained, this was widely seen as the most important speech of his political career. And Romney, not known for his charisma, was under particular pressure to come up with the goods following crowd-pleasing performances from running mate Rep. Paul Ryan and former US Secretary of State Condoleezza Rice.
So did the Republican presidential hopeful deliver?
What Romney said
Romney launched a "barrage of attacks" against Democrat incumbent Barack Obama, reported the BBC, with the GOP hopeful accusing the US President of failing to deliver on his promises and lamenting "the disappointments of the last four years". Romney promised to deal with the ailing economy and create 12 million jobs. Accused in the past of lacking personality and warmth, Romney also spoke of his family life and Mormon upbringing.
'Safe and unadventurous'
"It was a strong speech, a solid speech, a well-delivered and well-received speech—but also a safe and unadventurous speech," wrote Howard Kurtz at The Daily Beast. According to Kurtz, Romney faced an uphill struggle, given that he is "perhaps the least well known nominee, in purely personal terms, of modern times" and has to close the "likeability gap" between himself and Obama. Kurtz said that Romney's speech "flagged" during the sections on the economy and that the jobs creation pledge lacked detail.
Romney issued a challenge to Obama
"Mitt Romney's acceptance speech Thursday night was less of an emphatic statement of purpose than a direct challenge to President Obama," said a Boston Globe editorial. The Republican did not take the opportunity to set out "a fully convincing game plan of his own", but instead focused on portraying Obama as a disappointment to the American people. And after a vicious primary campaign, Romney made a start at restoring his personal image by making reference to his family. Will this strategy work? It "puts a lot of pressure on Obama, but also hands him an opportunity", said the editorial. If Obama sets out a clear game plan at the Democratic Convention, the lack of detail in Romney's speech may cost the GOP.
Generic but potentially effective
Jonathan Bernstein described Romney's speech as "a generic speech and a generic convention for a generic Republican candidate" in The Washington Post. But, argued Bernstein, this doesn't necessarily mean that the speech was a bust, as Romney did manage to include appeals to two key sets of swing voters. "The theme… was to appeal to those who might vote for Republicans but had one of two hesitations: either that they really like Barack Obama and had warm feelings for the 2008 campaign; or that they would vote Republican but were fed up with the parade of failures and crazies."
A winning speech from Romney
Romney's speech was a game-changer, wrote Tim Stanley in The Telegraph: "It was like a reverse Invasion of the Body Snatchers: Mitt went to bed a pod person and woke up a human being. The speech was warm, humble and hit Obama hard." According to Stanley, Romney encapsulated all that's right about the Republican strategy in the 2012 election:  "This season, Republicans are running on humanity and competence. It's a smart move."
Watch Mitt Romney's RNC speech in full.
More on the US election

The biggest speech of Romney's political life
Eastwood's unscheduled RNC speech
DJs for Obama
Romney chooses Ryan as running mate