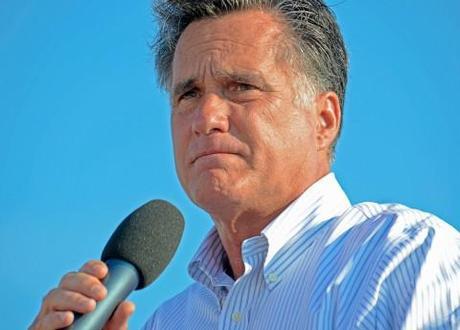 Mitt Romney: Under pressure. Photo credit: Maria Dryfhout / Shutterstock.com
The background
Mitt Romney's presidential campaign was dealt a fresh blow by the revelation that he branded 47 percent of US voters government-dependent 'victims'. The secretly recorded remarks, made at a fundraiser in Florida, were leaked on line by left-wing magazine Mother Jones. Romney said that 47 percent of voters (around 150 million Americans) "believe that they are victims, who believe the Government has a responsibility to care for them… These are people who pay no income tax." The Republican presidential hopeful argued that these voters were bound to vote for Obama, and that his job was not to worry about "those people".
At a hastily convened press conference, Romney insisted that he stood by the substance of his remarks but regretted that they were not "elegantly stated". But will this be enough to calm the furore or, as some commentators have predicted, is this the death blow to the Romney campaign?
Watch a video of Romney's 47 percent remarks below.
Romney facing host of issues
Chris Cilliza pointed out in The Washington Post that Romney had already entered a negative news cycle in the weeks before the leaked recording. The GOP candidate issued a controversial statement in Libya and also faced claims that his campaign is riven with in-fighting and internal backstabbing. The latest story "will serve as a major distraction for a Romney campaign", ensuring "a second straight week lost to off-message stories that are far afield from the economic focus that the Romney campaign is hoping to lean on in the final weeks of the race". And the leaked remarks will also "fuel the growing sentiment within the Republican chattering class that Romney is in the process of losing a winnable race".
Mitt Romney, the guy who pays no taxes on millions of dollars thinks you're a welfare freeloader. God Bless 47% of America! #RomneyEncore

— Chris Rock (@chrisrockoz) September 18, 2012
Video will damage Romney's 'likeability'
"It's likely that this video will really hurt the candidate. It will damage his likeability stakes even more, confirming an impression that he's the candidate of the wealthy," wrote Tim Stanley in The Telegraph. "Sure, Romney's quote might contain a grain of truth. But it's also cruel and fatalistic."
Romney is still in the game
"The striking thing here is that for all of Romney's recent problems, he still trails an incumbent president by only a few percentage points," pointed out Howard Kurtz at The Daily Beast. "Given the anemic economy and three upcoming debates, he is hardly out of the game."
Romney is doomed
"You can mark my prediction now: A secret recording from a closed-door Mitt Romney fundraiser, released today by David Corn at Mother Jones, has killed Mitt Romney's campaign for president," said Josh Barro at Bloomberg. The problem is that Romney's remarks give the impression he thinks voters are "losers" – and that's not exactly endearing.
Romney's 'victim' remarks at fundraiser.
More on the US election

Romney and Obama hit the road
Michelle Obama's DNC speech a 'triumph'
The verdict on Romney's RNC speech
Obama cracks birther joke