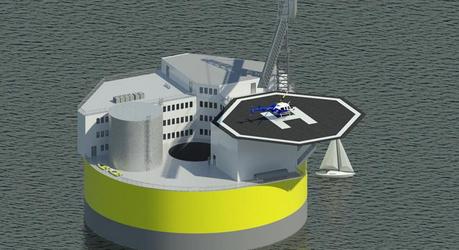 This illustration shows a possible configuration of a floating offshore nuclear plant, based on design work by Jacopo Buongiorno and others at MIT's Department of Nuclear Science and Engineering. Like offshore oil drilling platforms, the structure would include living quarters and a helipad for transportation to the site. (Credit: Jake Jurewicz / MIT-NSE)
According to an MIT News item, a new design for nuclear plants built on floating platforms, modeled after those used for offshore oil drilling, could protect nuclear plants from tsunamis.
Such tsunami-proof floating nuclear plants, as MIT's website states, would be designed to be automatically cooled by the surrounding seawater in a worst-case scenario, which would indefinitely prevent any melting of fuel rods, or escape of radioactive material.
To quote from the MIT website, "Such plants could be built in a shipyard, then towed to their destinations five to seven miles offshore, where they would be moored to the seafloor and connected to land by an underwater electric transmission line. The concept takes advantage of two mature technologies: light-water nuclear reactors and offshore oil and gas drilling platforms."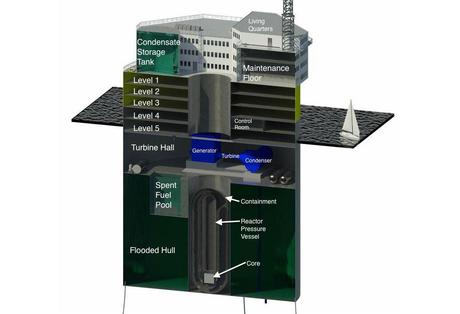 Cutaway view of the proposed plant shows that the reactor vessel itself is located deep underwater, with its containment vessel surrounded by a compartment flooded with seawater, allowing for passive cooling even in the event of an accident. (Credit: Jake Jurewicz / MIT-NSE)
A similar concept of self-contained, low-capacity, floating nuclear power plants was proposed earlier by Rosatom, a Russian state corporation in charge of the country's nuclear complex. The stations are to be mass-built at shipbuilding facilities and then towed to the destination point in coastal waters near a city, a town or an industrial enterprise. Although the world's first floating nuclear power station was MH-1A built in the 1960s into the hull of a World War II Liberty Ship, the Rosatom project represents the first mass production of that kind of vessel. Early plans supposed at least seven of the vessels to be built by 2015. However, according to Jacopo Buongiorno, an associate professor of nuclear science and engineering (NSE) at MIT, none of the Russian floating nuclear plants have been located far enough offshore to be able to ride out a tsunami.
According to MIT, a floating platform several miles offshore, moored in about 100 meters of water, would be unaffected by the motions of a tsunami; earthquakes would have no direct effect at all. Meanwhile, the biggest issue that faces most nuclear plants under emergency conditions—overheating and potential meltdown, as happened at Fukushima, Chernobyl, and Three Mile Island—would be virtually impossible at sea.
Floating nuclear plants could withstand earthquakes and tsunamis. Video: Christopher Sherrill, courtesy of the Department of Nuclear Science and Engineering.