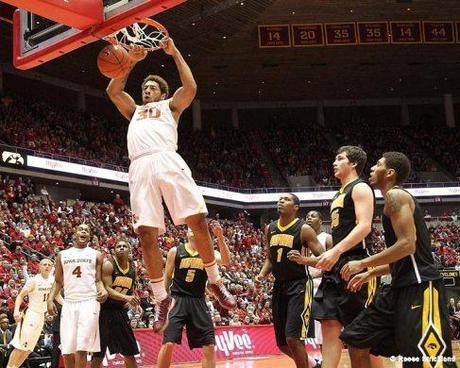 IF you have ever had the sincere pleasure of watching Houston Rockets rookie Royce White play a game of basketball, boy were you in for a treat. The 6'8″ White was perennial power player at Iowa State University, arriving after leaving the University of Minnesota after repeated eligibility and personal issues. After being drafted in the first round of the NBA draft (16th overall), I was overly excited to see White play, even choosing him as my preseason rookie of the year candidate.
White possesses a unique ability to influence the game in every single way. He is not a pure scorer, passer or defender. He is a jack of all trades. He led the Cyclones in points, rebounds, assists, blocks, and steals. The first time I saw him play I was stunned at how much body control he had while weighing almost 260 lbs. He is quite simply, a monster. Try and block him? He will dunk on you, plain and simple. Leave him open on the wing? He will make you pay for it. Try and dunk on him? Good luck. When discussing Royce White, make sure you attach the phrase "athletic freak" to his resume'.
To this point, however, there is only one problem; Royce White has never donned a Rockets jersey in a professional game.
White suffers from extreme anxiety. This condition affects countless people worldwide. Defining anxiety seems rather too broad to comprehend. As a person who has dealt with extreme anxiety disorder for over 3 years, I can attest to the condition that it leaves you in. Not being able to live up to one's potential due to irrational fears dominates a person with anxiety. Not only does it affect you; it rips apart family relationships, friendships, romantic relationships, and the ability to focus on a certain.
Royce White is terrified of flying on airplanes. This is a tad important for a professional athlete who essentially lives on the road for the better half of a year. Pro athletes live on airplanes and in hotel rooms; being terrified of flying simply is not an option. Iowa State University had established a "level of trust" with White that enabled him to tolerate flying, however, it still caused him a great deal of anxiety according to many close with him.
White's condition has led to a "feud" with the Houston Rockets front office. The Rockets are not just a basketball team, they're a monetizing organization. The goal is to make money. White is paid to play and be a productive and rule-abiding team member, leading a young class of Rockets to help build a successful team and generate revenue for ticket sales, and hopefully lead the team to a playoff appearance to further generate income. All of these factors matched with White's commitment to advocate on behalf of people with anxiety disorders has led to a standoff with regards to how the situation should be handled. The Rockets eventually suspended White for not participating and supposedly "violating" his contract. He was reinstated in late January and sent down to the Rockets' D-league affiliate the Rio Grande Valley Vipers to work on hopefully playing for the Rockets this season.
While the argument-counter-argument process could go on for seemingly ever concerning this situation, let's be clear that mental illness in this country has long gone relatively unnoticed and only in the past decade or so has it gained some footing in cultural relevance. Clearly, just an opinion here, and I may be spit balling, but so many people have simply demanded that White "suck it up, take the plane ride, and accept that fat paycheck". Even others with anxiety have spoken out against White. That's fine, in a world where I can sit behind a computer screen and write about a young man's struggle without ever having have met him, the only aspect that matters here is perspective. I can relate to his struggles with the condition and personally empathize with him; I cannot, however, relate to a million dollar contract. I totally understand that he is held to a higher standard as a professional athlete. I also believe the Rockets knew that this could have been a potential issue drafting him. The organization took a gamble; it has not worked out yet, yet. Royce White is one of the best, if not the best player in this draft class. Sorry Damian and Anthony.
Perhaps the Rockets, seeing as they took this potential risk, should have generated an overall appeal of cooperation as opposed to looking down with a smirk. They took the risk, they saw this could have been an issue, deal with it. The Rockets have a potential superstar in their midst and they might just be too idiotic to make some special accommodations. Hell, it's not even that, a little compassion and understanding for what cannot be seen seems to be lost in the world of professional sports. Sure, with the salaries given out, everything is expected all the time, but put aside the ego Rockets, and try to counsel this young man through his issues, and you may have come away with the steal of the draft class.