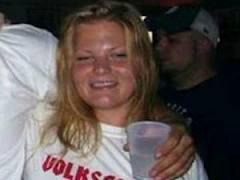 Misty Cook is blonde, rosy cheeked and pretty, but the sweet-looking mother of one is also the ex-girlfriend of Wade Michael Page, the gunman who brutally killed six Sikh worshipers in Milwaukee temple on Sunday.  Although police say Cook is not a suspect in the shootings, they were worried enough about her connections to Page this weekend that they went to the restaurant where she worked and, after searching her apartment, arrested her on a charge of illegal possession of a firearm by a felon.
In addition to Misty Cook's felony rap sheet, she is also one of thousands of women in the United States who are a part of or support white supremacist organizations, according to the Anti-Defamation League. Misty supported Skinhead groups, including the white power groups that Wade Page followed and the ex-couple had in common.   One of those groups, the Hammerskins, pledges to live by the 14 words:  "We must secure the existence of our people and a future for White Children."
It's easy to assume that only men like Page are a part of a dark and secretive culture that espouses violence and hate against minorities in our country and sometimes even acts on it.  But the ADL estimates that between 30 percent and 40 percent of the roughly 100,000 people who support white supremacist group are women.
Maybe this guy was right after all
. What do you think?