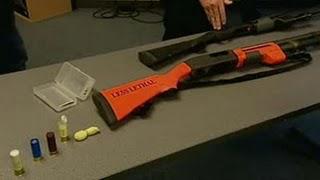 Mayor Sam Adams said Friday that the mistaken use of lethal rounds instead of beanbag rounds in a Thursday officer-involved shooting was "a tragic mistake" and he wished a speedy recovery to the man who was shot. 
Chief Michael Reese the incident was "a terrible tragedy." He said he spoke with the officer involved last night "and he certainly feels horrible." Reese said his thoughts and prayers go out to the man who was shot.
The article made it sound like the cop used his weapon too quickly, thinking it was "less lethal." But that's wrong, isn't it? I thought beanbag guns and tasers are only supposed to be used when absolutely necessary just like real guns. Not only did this guy screw up the ammunitions, supposedly, but he may have fired unnecessarily.
The best part is that Mayor Sam Adams apologized to the guy who was shot. He certainly is a breath of fresh air when it comes to incidents like these.
What do you think? Please leave a comment.