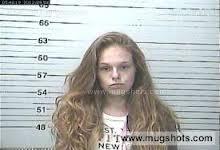 Local news reports
Harrison County Sheriff Melvin Brisolara says that after a woman apparently shot her 47-year-old father and 2-year-old son by accident, a deputy investigating the shooting was injured by fumes from a meth lab in her home.
20-year-old Jessica Amanda Saucier and her 18-year-old boyfriend, Walter Edward Franklin III, were charged with felony child neglect and their bonds set at $100,000. It was not clear whether they had lawyers.
Maj. Ron Pullen says Saucier told deputies her shotgun went off while she was loading or unloading it during target practice. The blast hit the vehicle in which her child and father were sitting, critically injuring the child and hitting her father's face.
In Mississippi that's just the way things go. If you're gonna shoot your kid by accident you better not have a meth lab in the house if you expect to get away with the shooting.
What do you think?  Please leave a comment.