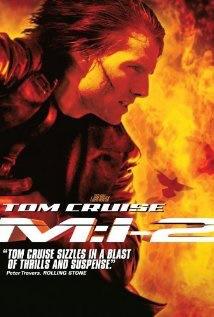 Director: John Woo
Writer: Robert Towne (Screenplay) Ronald D Moore, Brannon Braga (Story) Bruce Geller (TV Creator)
Starring: Tom Cruise, Dougray Scott, Thandie Newton, Ving Rhames, Richard Roxburgh, John Polson, Brendan Gleeson, Rade Serbedzija, William Mapother, Dominic Purcell
Plot: A secret agent is sent to Sydney, to find and destroy a genetically modified disease called "Chimera"
There may be spoilers the rest of the review
Verdict: Not As Slick As It Should Be
Story: Mission Impossible II starts yet another iconic city this time Sydney. Here we watch as Ethan Hunt (Cruise) is running a mission to capture biological weapon transfer in mid-flight but it turns out that Sean Ambrose (Scott) and his men have been undercover to take the weapon for themselves. IMF track down the real Ethan Hunt to give his latest mission which means he will have to assemble a new team which has to include Nyah Nordoff-Hall (Newton) a master thief.
When Hunt has finished recruiting Nyah he gets the details for his latest mission with an old friend. Ethan's mission is to retrieve the stolen information from Ambrose and use Nyah to get close to him. The story follows as Hunt tries to cover the transportation of the virus while Ambrose tries to keep one step ahead of him.
Mission Impossible II really tries to add a spark to the solid and enjoyable first chapter in the Mission Impossible saga, the problem is that everything goes way too overboard making nearly every scene feel very much unbelievable and losing what looked like it would be a previously believable storyline. The idea behind the story is very simple and easy to follow but the unmasking and disguises get boring quickly now, yes it is a surprise when they do it but come on how many times can you really do it in one film? Out of the four Mission Impossible films I find this one has the weakest storyline that never manages to pull you in like the rest do. (6/10)
Actor Review
Tom Cruise: Ethan Hunt who gets his holiday interrupted to go on his latest mission impossible, where he has to talk mastermind thief into going undercover with former IMF agent trying to sell a virus on the black market. Tom continues to show his slick style in the film but he gets too many mad jumping shooting scenes that make very little sense. (7/10)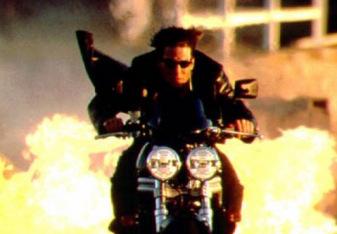 Dougray Scott: Sean Ambrose is the former agent who turns on the agency to get rich selling a virus on the black market, he keeps one step ahead of Hunt as he knows how an agent would think. Dougray makes for a good villain and to say he plays the character in a way we wouldn't usually see a villain where he will kill the hero given half a chance. (7/10)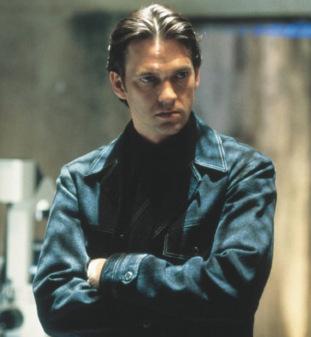 Thandie Newton: Nyah Nordoff-Hall is the mastermind thief who agrees to go undercover with her ex-boyfriend Ambrose but ends up getting caught up in the middle of the battle between Hunt and Ambrose. Thandie plays the beautiful almost Bond girl figure in this film very well and convinces along the way. (7/10)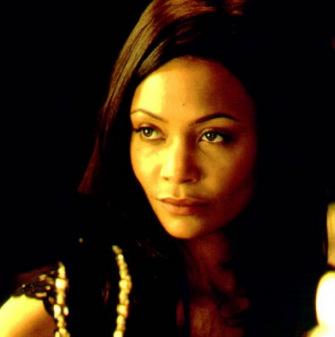 Support Cast: Mission Impossible II has a supporting cast that includes Hunt's team, Ambrose's team and the mystery buyer, all of which help the story get to the next chapter by giving us characters to be killed off.
Director Review: John Woo – John puts his trademark staples on this film with flying shooting scenes and plenty of doves but doesn't reach the levels we would expect form him. (6/10)
Action: Mission Impossible II has plenty of over the top action sequences with bullets flying everywhere. (7/10)
Thriller: Mission Impossible II doesn't manager to pull you in as much as the previous installment of the franchise. (5/10)
Settings: Mission Impossible II has the most part of the film set in Sydney which works for the threat being used by Ambrose. (8/10)
Suggestion: Mission Impossible II is still going to be one for the action fans to watch even if it isn't as good as the rest of the franchise. (Action Fans Watch)
Best Part: Motorbike chase.
Worst Part: Too far over the top.
Action Scene Of The Film: Motorbike chase.
Favourite Quote: Mission Commander Swanbeck 'Mr. Hunt, this isn't mission difficult, it's mission impossible. "Difficult" should be a walk in the park for you.'
Believability: No (0/10)
Chances of Tears: No (0/10)
Chances of Sequel: Has 3 more sequels
Post Credits Scene: No
Oscar Chances: No
Box Office: $546 Million
Budget: $125 Million
Runtime: 2 Hours 3 Minutes
Tagline: Expect the impossible again
Overall: This lacks the edge the first one had and ends up feeling very much over the top and out of place next to the rest.
Rating