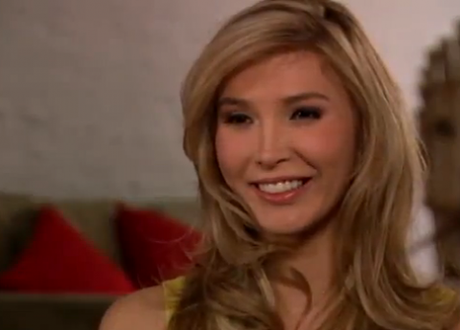 Jenna Talackova. From her interview with Barbara Walters (embedding disabled) http://www.youtube.com/watch?v=Wp5h_0puRCg
Miss Universe, the beauty contest co-owned by Donald Trump and NBC, may soon change its rules to allow transgender women to participate.  Officials have announced the shift in policy, reported The Daily Mail, but the rules will still have to be approved by Mr Trump.
The policy change comes after the organisation allowed Jenna Talackova to run for Canada in the pageant. Talackova went through a sex change four years ago – she was born a man, which initially disqualified her for the contest (unsurprisingly). She begged the organisers to let her compete: "I am a woman. I was devastated, and I felt that excluding me for the reason that they gave was unjust. I have never asked for any special consideration. I only wanted to compete," said Talackova. Donald Trump himself tweeted: "Jenna changed her name from Walter to Page and then to Jenna so that now her name is Jenna Talackova. If you take the first 3 letters from Talackova and add them to Jenna, it's Jennatal (genital?). Is there something a little strange going on here? In any event, I have given the okay for her to compete in the Miss Universe Canada Pageant. It will be a wild evening with ticket sales through the roof–lots of interest!"
Incidentally, reported The Mirror, Talackova has reported that she is in a long term relationship with a man, and would like children one day. The paper continued that she had known she was a woman from the moment she was born, and had started hormone therapy at the age of 14. You can watch her interview with Barbara Walters here.
So is this a massive win for civil rights? Or just a bit silly?
"Everybody should be allowed to participate in every aspect of society. Absolutely it's good news, it's another pernicious structural discrimination barrier taken down," said Mara Keisling, executive director of the National Center for Transgender Equality, quoted on The Daily Mail.
Er…. is it really such a good thing? Susan Stryker, director of the Institute for LGBT Studies at the University of Arizona, commented: "The next question is, can't we move beyond beauty pageants and make changes in areas that have more relevance," and wondered whether beauty pageants were in fact all that when it came to advancing the cause of womankind.
A victory for civil rights? Charlie Smith on Straight.com went a wee bit overboard: "When you think of the giants who've advanced human rights, certain names immediately come to mind: Martin Luther King Jr., Cesar Chavez, Medgar Evers, Rosa Parks, Harvey Milk, and Jackie Robinson. Here in B.C., our list of trailblazers includes Frank Calder, Douglas Jung, Kevin Brown, Ujjal Dosanjh, Rosemary Brown, Tim Stevenson, and Jane Rule. Now, you can add another name: Jenna Talackova." He called her victory "stunning," and added "Who knows? Perhaps one day, Talackova will appear on a postage stamp, just like some of the other civil-rights pioneers listed above."
Perhaps not. However, Tami Starlight, the executive director of the Vancouver Transgender Remembrance Society told Straight that there was "almost nothing good" about Talackova's win. "I feel that the community does a disservice by supporting and applauding this kind of nonsense—that she's allowed to participate in such a thing. We need hate-crime laws passed. We need inclusion laws passed. We need full recognition everywhere, hate-crime enhancement laws within the legal system—all of those things. We need the Canada Health Act to step up and identify trans people's medical needs as necessary as anything else that's deemed medically necessary in this country, instead of playing political football with our lives province by province, and delisting and relisting over and over. This stuff has to stop. Those are the fights."