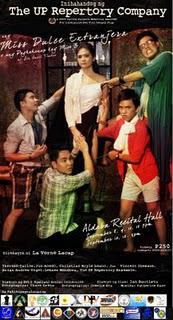 To mark Dr. Jose Rizal's 150th year, the UP Repertory Company presents "Miss Dulce Extranjera," by Nicolas Pineda.
The play focuses on the national hero's foreign-born wife, Josephine Bracken, who remains an enigma to most. Did Rizal really love and marry Josephine? Did they have children? Was she part of the Katipunan? These and other questions are explored by two writer-characters in the play, who join a competition with Dr. Jose Rizal and Josephine Bracken as their main subjects.
"Miss Dulce Extranjera" stars Therese Carlos, Jun Acedo, Christian Bryle Leano, Jan Vincent Ibesate, Brian Andrew Vogel, Lehner Mendoza and the UP Repertory Company, under the direction of La Verne Lacap.
It runs September 8-9 (7 p.m.) and September 10 and 12 (3 p.m. and 7 p.m.) at the Aldaba Recital Hall, UP Diliman. For ticket inquiries, call Emma Escanilla 0906-1656157.