That sounds pretty dumb doesn't it, but that is sort of what happened if you listen to the Clinton supporters.  They liked playing the woman card in both 2008 and 2016.
Remember "Obama Bros"?  And there is talk that the Barack Obama was a Kenyan Muslim began with somebody from Clinton's campaign back in 2008.
Given that the
ad hominem
attack is the sign somebody is losing the debate, we could indeed say Clinton lost before she even started running.
BUT
People need to ponder the significance of this picture since it pretty much sums up what is wrong with politics in the US.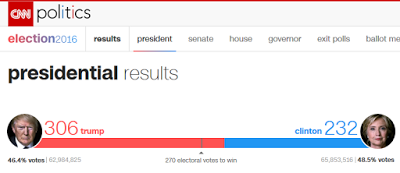 While Hillary's running wasn't the main reason I voted Green, it was one small factor in that decision.
And it reflected that the current state of US politics is broken.  Hillary was the symptom, not the disease.
ANYONE who isn't aware of this and discussing what the real problem is can't really make an accurate statement about what went wrong.  So, they are going to say silly things like "misogyny caused Clinton the election", "Jill Stein and the Greens caused Hillary the election", or "Russians stole the election".
Even all those reasons are total
BULLSHIT.
The Fact is Hillary Clinton won the popular vote with 65,853,516 (48.5% votes) to Trump's 62,984,825 (46.4% votes), but lost in the electoral college by receiving 232 (43.1%) of the electoral votes to Trump's 306 (56.8%) votes.
That means the only thing which made Donald Trump president was the electoral college, an institution created by the US Constitution (Article II, Section 1, Clauses 2-4). 
I'm not sure who or where this was posted in a newsgroup, but it sums up the thinking of the Jill Stein voters:
So let play something out, if we vote for Jill Stein (which we will) and she gets enough electoral votes that it keeps either Hillary or Donald from receiving enough electoral votes to grab the nomination, then Congress will vote from the top three to be the next president. We all know how much both parties hate Donald and that they are to corrupt to vote for Jill. So who does that leave? So in all actuality a vote for Jill isn't a vote for trump. And if we get enough people to vote for her we will get a third party. If everyone voting fear because they are scared of Trump voted for Jill she would win hands down. Here is the true argument we should be telling the fear voters. And if no one gets enough electoral votes, we will then see in full view that it is rigged by the fact both parties will vote for her. So in the least a vote for Jill is a vote for Hillary, at most a vote for Jill is a vote for Jill. Either way we would at the least have a third party nationally recognized from now on. Lets push this talking point. I think it might sway the scared people into voting their conscience knowing Donald won't get the presidency.
I know that my reasons for voting for the Green Party relate to a broken system: and not anything else.
See also:
Why Electoral College wins are bigger than popular vote ones | Pew Research Center