Pin
Share
Tweet
0

Shares
Jump to Recipe
·
Print Recipe
These Gluten-Free & Vegan Miso Chocolate Chip Cookies will make your mouth water! The addition of miso to the cookies adds such a delicious, subtle umami flavor that will have everyone wondering what exactly is making these cookies extra tasty.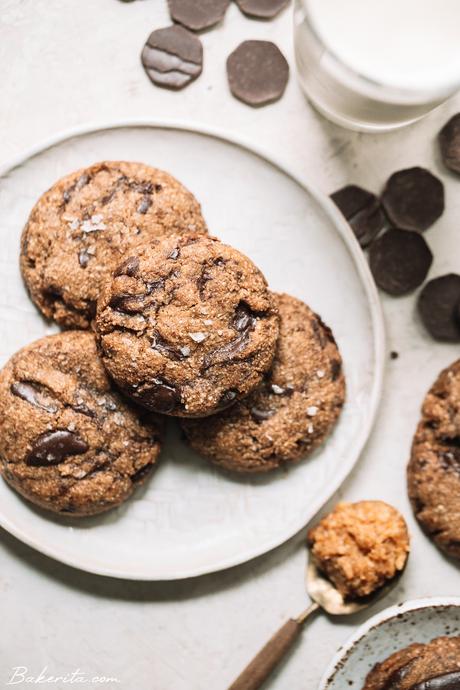 I'm a pretty major cookie monster. Not a week goes by where I don't make some sort of gluten-free cookie or vegan cookie. I simply can't get enough, and I almost always have some sort of cookie dough in the fridge. I also have an entire chapter dedicated to cookies in my cookbook! So, you could say I'm pretty into cookies.
I'm always excited to add a new favorite to the list, and these miso cookies immediately shot to the top of the favorites list as soon as I took a bite. You may be wondering why the heck someone would add miso to cookies, and let me tell you: you want to try it.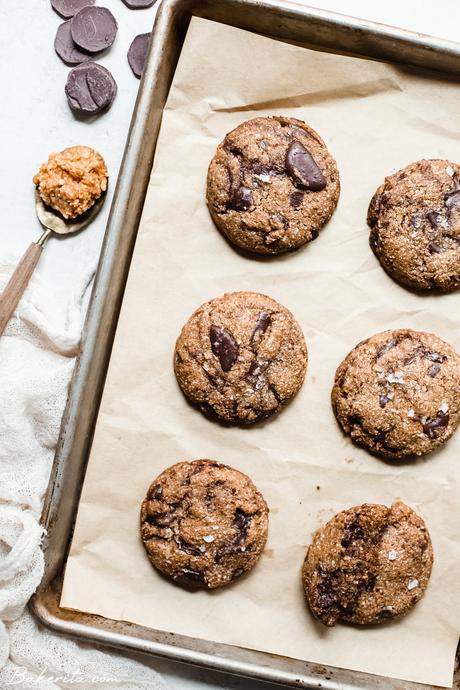 Why add miso to chocolate chip cookies?
Adding miso to cookies is an unexpectedly delicious addition. Miso, a traditional Japanese ferment made with soybeans, has a distinctly delicious savory, umami flavor. You likely know it from things like miso soup. But it also works so well as a salt substitute in these cookies. Miso also pairs exceptionally well with dark chocolate.
I use a miso that I got at the Hollywood Farmer's Market, from the company Omiso. It's a small-batch, local miso, but you can absolutely use one from the grocery store. I recommend using light-colored miso, like white or yellow, which has a more mild flavor than the bolder red miso.
It adds a little something something you can't quite put your finger on but is truly exceptional. It's one of those you have to try it to believe it kind of things. Miso in baked goods has been trendy for a few years now, so I'm not the first to come up with this idea (and unfortunately I don't know who is), but I can't believe it took me so long to try it!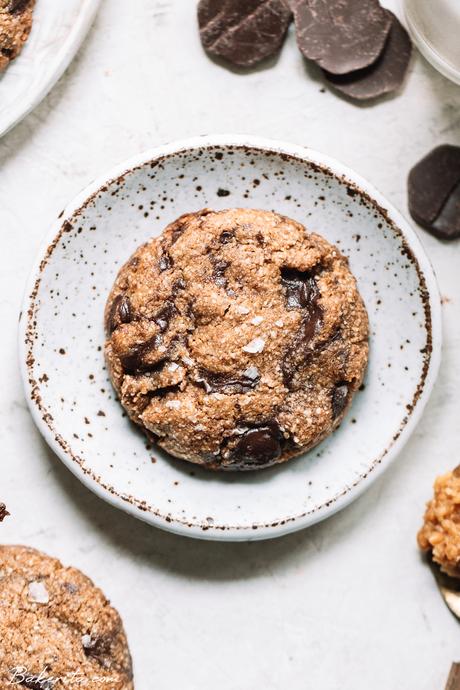 Do they need to be vegan?
Nope! I prefer making vegan cookies because I follow a primarily plant-based diet…and because without eggs in the dough, you can eat the raw dough 😜 YUM! But if you don't follow a vegan diet, you can absolutely make these with a regular egg. You can also swap the coconut oil for butter if preferred.
Can I freeze these cookies for later?
Yes, absolutely. They can be frozen after baking, but I prefer to freeze the cookie dough so you can have freshly baked miso cookies on demand.
Scoop cookie dough balls onto a baking sheet and place in the freezer until firm, about 1 hour.
Once frozen, transfer to a freezer-safe zip bag. Freeze for up to 6 months (though they're best before 3 months).
When you're ready to bake, you can bake straight from frozen, but add an extra minute or two to the baking time.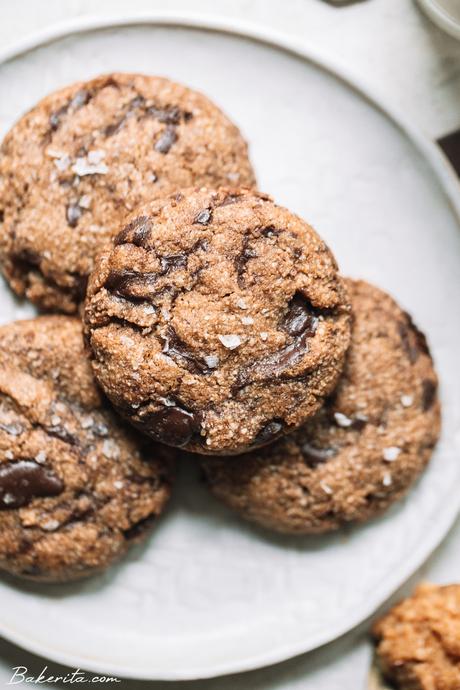 Want more delicious cookies?!
Paleo Chocolate Chip Cookies
Gluten-Free Sourdough Chocolate Chip Cookies
25+ Vegan Cookie Recipes
20+ Seriously Good Gluten-Free Cookies
Print clock clock iconcutlery cutlery iconflag flag iconfolder folder iconinstagram instagram iconpinterest pinterest iconfacebook facebook iconprint print iconsquares squares iconheart heart iconheart solid heart solid icon
Miso Chocolate Chip Cookies
---
Author:

Rachel Conners

Prep Time:

10 minutes

Chill Time:

1 hour

Cook Time:

10 minutes

Total Time:

1 hour 20 minutes

Yield:

12

to

20

cookies

1

x

Diet:

Vegan
Print Recipe Pin Recipe
Description
These Gluten-Free & Vegan Miso Chocolate Chip Cookies will make your mouth water! The addition of miso to the cookies adds such a delicious, subtle umami flavor that will have everyone wondering what exactly is making these cookies so extra delicious!
---
Ingredients
Scale
½ cup

 (

100g

) refined coconut oil, softened, similar in texture to softened butter, can also use butter (vegan or dairy both work)

⅔ cup

 (

96g

) coconut sugar

1½ tablespoons

 white miso paste or other light miso

1

 large 

egg

 or 

flax egg

, room temperature or for vegan/to eat the dough, use a flax egg: mix 1 tablespoon flax meal + 

2.5 tablespoons

 water and let gel for

10

minutes before using

1 teaspoon

 pure vanilla extract

½ teaspoon

 

baking soda

2¼ cups

 (

220g

) 

blanched almond flour

1 cup

 (

6 ounces

)

dark chocolate chips

, I used Raaka Maple Dark Chocolate Discs, use code BAKERITA20 for

20

% off
Flaky 

sea salt

, to sprinkle on top, optional
---
Instructions
Mix together the coconut oil, coconut sugar, and miso paste until smooth. Add the egg or flax egg and vanilla extract and stir until smooth.
Add the almond flour and baking soda to the wet ingredients. Mix until well incorporated. Fold in the chocolate.
Cover and refrigerate for at least an hour (or up to 48 hours). You don't NEED to refrigerate the dough if you don't have time, but it's recommended for the best flavor and texture.
When you're ready to bake, preheat the oven to 350ºF. Use a cookie scoop (using this size will give you 12 cookies, using this smaller size will give you about 20) to form cookies and place on a parchment-lined baking sheet; press down slightly. Sprinkle with flaky sea salt if desired. Bake for about 10 or until just beginning to turn golden brown around the edges.
Store leftover cookies in an airtight container at room temperature or in the refrigerator up to 3 days.
Notes
Buying Miso
You can find miso in the refrigerator section of your grocery store. I recommend a white or yellow miso for this recipe. To keep these soy-free, use chickpea miso.
Category:

Cookies

Method:

Baking

Cuisine:

American
Keywords: miso cookies, chocolate chip cookies, white miso
Did you make this recipe?
Tag @bakeritablog on Instagram and hashtag it #bakerita
¼½¾⅓⅔⅕⅖⅗⅘⅙⅚⅛⅜⅝⅞
Pin
Share
Tweet
0

Shares