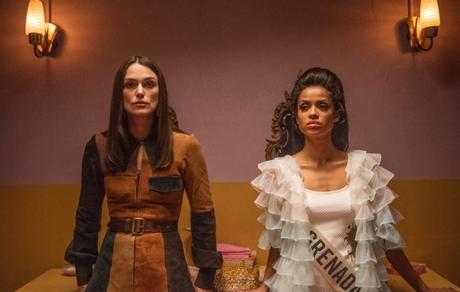 Director: Philippa Lowthorpe
Writer: Rebecca Frayn, Gaby Chiappe (Screenplay)
Starring: Keira Knightley, Greg Kinnear, Jessice Buckley, Lesley Manville, Gugu Mbatha-Raw, Suki Waterhouse, Rhys Ifans, Keeley Hawes
Plot: A group of women hatch a plan to disrupt the 1970 Miss World beauty competition in London.
Runtime: 1 Hour 46 Minutes
There may be spoilers in the rest of the review
Story: Misbehaviour starts as Sally Alexander (Knightley) a woman who wants to fight for her own equality, looking to go through the system breaking her own barriers but only finding walls. Sally ends up getting invited to join Jo Robinson (Buckley) is a women's liberation group, looking to fight back to overthrow the system.
The women look to target the upcoming Miss World Beauty competition run by Eric Morley (Ifans) who is only interested in the look of a woman, never letting them have a chance to show off who they really are, despite them trying to break the barriers and include their first black entries. This year's contest will change everything for the system that has always been stuck in its ways.
Thoughts on Misbehaviour
Thoughts – Misbehaviour is a film that looked at how a group of women fighting for their place in an equal world, look to target a Miss World competition to get their message across, while the Miss World competition is stuck in the backwards thinking on only wanting to objectify the women. This is an important moment in a movement for equality, that shows just how similar to a cattle market the competition is, with us seeing just how much the women all want something different from this competition rather than just being about beauty could get impact more. The movement does seem like it doesn't have the direction it needs, which is shown in the best scene of the film when Sally meets Jennifer, proving there are many battles going on each one is at a different stage and each one will have a different way to win. The performances in the film are great, with Keira Knightley and Gugu Mbatha-Raw shining through too. The message is the important part of this film and it does come through clearly.
Final Thoughts – Misbehaviour is an important drama that showed the changes needed to be put in place in yet another story of how history needed to be changed.