These Mint Chocolate Chip Brownies are rich and fudgy with a mint chocolate chip topping! This irresistible dessert is gluten-free, refined sugar-free + Paleo-friendly, and you'll never guess healthy ingredient they contain.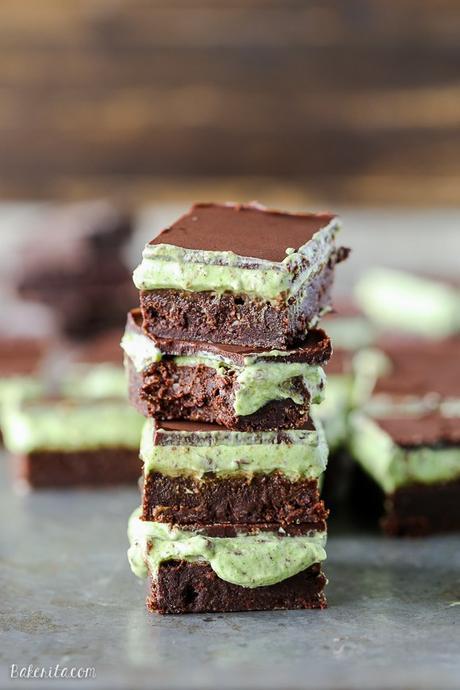 Happy St. Patrick's Day!! Are you doing anything fun to celebrate…or eating any festive green treats?! I sure hope so – and if you haven't planned anything yet, I'm providing a holiday-centric recipe just in time for you to enjoy (or maybe late, depending on how you look at it).
Either way, these Mint Chocolate Chip Brownies are nothing short of outstanding whether they're made for a celebration or just any old day…but they will make said any-old-day seem way more spectacular than usual. And the best part? They're super secretly healthy.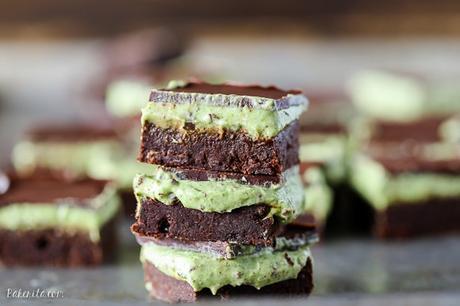 My lovely roommate Ally tried one of these brownies before I gave her the rundown about them and remarked to me about how much she absolutely loved them. I excitedly asked her to guess what was in the minty filling to make them green. She guessed a slew of unhealthy things (to my delight), and only finally guessed when I told her it was the last thing she would probably ever guess/want in her brownies: spinach.
Yup! These brownies have spinach in them. Not enough that you taste spinach with your brownies, but enough to make the mint chocolate chip filling turn that pretty minty green color. I promise, if Ally didn't guess, you'll never know :)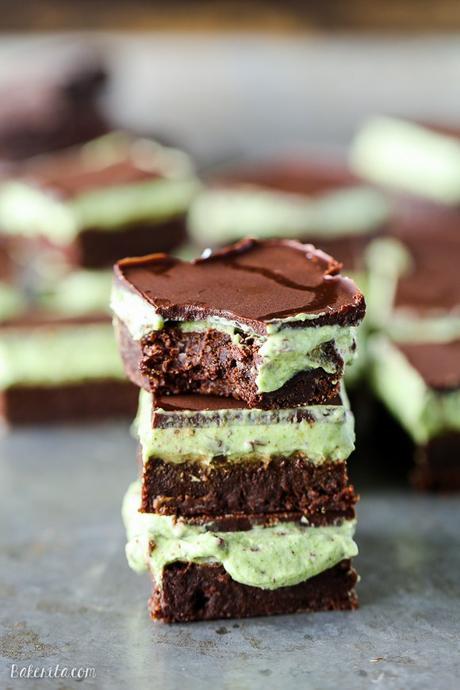 Even though these Mint Chocolate Chip Brownies have a few different components, each part comes together fast and a few of the ingredients are used multiple times.
The chocolate brownies are incredibly rich and fudgy, which is just how I like my brownies to be. They're made with cocoa powder, not melted chocolate, so the brownie batter comes together super quickly. Err on the side of under-baking rather than over-baking – a gooey brownie is always better than a dry one!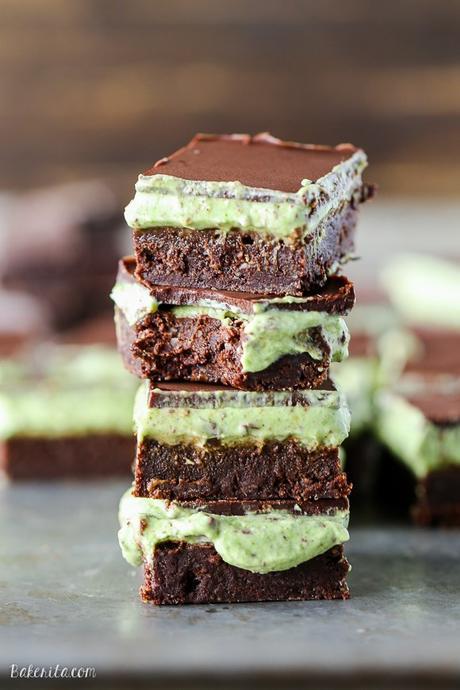 The creamy mint chocolate chip filling is made with coconut cream, maple syrup, mint extract, and as mentioned, some fresh spinach for color. All the ingredients are blended until smooth, and then dark chocolate is pulsed in to make the "chip" part of mint chocolate chip. The filling is spread all over the cooled brownies. Then, a quick mix of coconut oil, cocoa powder, maple syrup, and mint extract is poured over the mint filling – it hardens into a smooth and melty chocolate layer!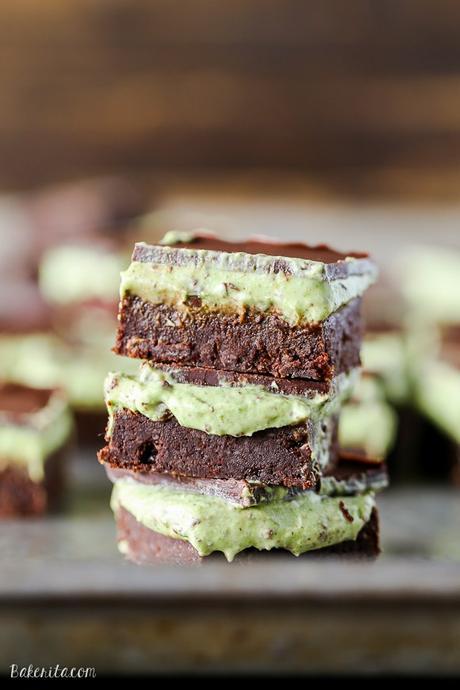 I've been eating one of these brownies to satisfy my chocolate craving pretty much every night since I made them and it's going to be a sad day when they're finally gone. Now get baking – you've got to eat your veggies! ;) Enjoy!
Remember to #bakerita if you try the recipe!
Mint Chocolate Chip Brownies (Paleo + GF)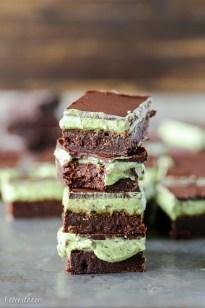 Save
Print
Prep time 25 mins Cook time 25 mins Total time 50 mins   Author:
Rachel Conners
Serves:
16 brownies
Ingredients
½ cup + 2 tablespoons (4.5 oz or 130g) coconut oil
1¼ cups coconut sugar
¾ cups plus 2 tablespoons unsweetened cocoa powder (2.5 oz or 70g)
¼ teaspoon salt
1 teaspoon vanilla extract
2 large eggs
½ cup almond flour (2 oz.)
For the mint cream
¾ cup coconut cream
½ cup fresh spinach
2 tablespoons maple syrup
½ teaspoon mint extract
1 ounce dark chocolate, chopped finely
For the chocolate topping
¼ cup coconut oil
¼ cup cocoa powder
2 tablespoons maple syrup
⅛ teaspoon mint extract
Directions
Preheat oven to 325ºF. Line an 8-inch square baking pan with aluminum foil or parchment paper. Spray with cooking spray; set pan aside.
In a large bowl, combine melted coconut oil, coconut sugar, cocoa powder, salt, and whisk until fully combined. Batter will be fully moistened and granular, sort of like sand.
Add the vanilla extract and eggs. Stir until batter is thick, shiny, and well blended. Add the almond flour and stir until combined. Pour the batter into the prepared pan and spread evenly.
Bake in preheated oven for about 22-25 minutes. Check with a toothpick - it should come out slightly moist with batter. Don't over bake! Let brownies cool completely before topping with mint cream.
In a blender or food processor, combine all ingredients for mint filling except the chocolate shavings. Blend until completely smooth. Add the chocolate shavings and pulse to combine. Pour over cooled brownies and chill until firm.
In a small bowl, whisk together the melted coconut oil, cocoa powder, maple syrup, and mint extract. Pour evenly over the mint filling. Refrigerate for at least 1 hour before cutting into 16 squares.
Brownies will keep in an airtight container in the refrigerator for up to 7 days.
3.5.3208

There's more where that came from!
Raspberry Mint Brownies
Chocolate Covered Strawberry Brownies (GF + Paleo)
Peppermint Brownies
Mint Chocolate Chip Cheesecake
Cookie Dough Brownies
Ultimate Gluten Free Fudge Brownies