Mint grows like crazy in our back yard.
Mint jelly with lamb is OK, but how about a sweet jelly with a little more kick?  Maybe adding a jalapeno would bring up the heat and tone down the sugar.  It would be tasty with meat entrees, and a kick over a block of cream cheese. (My husband remembers pouring a jar of salsa over a block of cream cheese, but he is
much
older than I, so I don't recall that particular little party treat.)  
A Google search for mint and jalapeno jelly came up quickly.  Here it is:
2 cups spearmint leaves, chopped fine, divided
2 jalapeno peppers, seeded, diced
3/4 cup white wine vinegar
2 Tbs lemon juice
3 1/2 cups sugar
4 Tbsp. freezer pectin (this is my variation on the original recipe since it called for regular pectin) 
In a small saucepan, heat 1 3/4 cups mint leaves with 1 1/2 cups water, bring to boil, shut off heat and let steep for 30 minutes. Strain mint infusion into large saucepan, squeezing out mint leaves to extract as much mint as possible (I used a coffee filter in a small colander for straining). Discard boiled leaves. ...(recipe continues for Hot Water Bath canning)
Here is what I did to make it a quick freezer jam:
Instead of boiling it all together for what would have taken forever, I just stirred it all for three minutes, added about 7 drops of green food coloring, added a few cleaned mint sprigs to each container, then ladled it into the plastic freezer containers.
Done.  -- It has not been thawed yet, so perhaps the mint leaves might wither.
This is my third recipe for making freezer jams this spring.  We have strawberry, blueberry and now mint jelly in our freezer.  The first batch with strawberries was too sweet, so I cut down the sugar when I made the blueberry jam, and also cut down the sugar on this mint/pepper jelly.  We liked them all.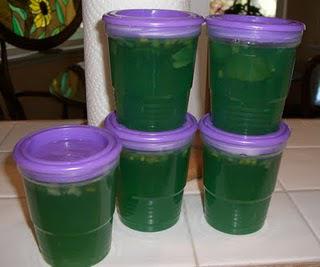 And here, in all its glory, is a picture of the mint jelly slathered over a block of cream cheese.  It tasted surprisingly refreshing with just a little bite to it.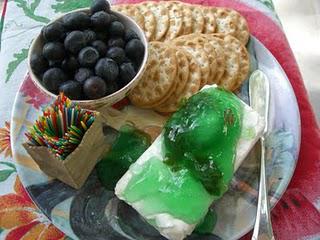 Does that picture above remind you of James Lilek's
Gallery of Regrettable Foods
?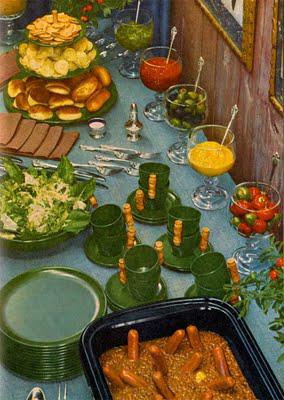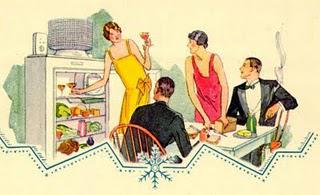 Says Lileks:
Freud never had to ask what men want. Men want liquor. They want a pistachio cordial that matches their ties, matches the coffee cups, and matches the salad and the relish. AVOCADO GREEN, the rutting stags demand.




To remind them they're men, make sure to embed a batch of wriggling, erect wieners in a sea of beans.
James Lileks has so many funny stories and books.  Take a look.  He makes our childhood foods look downright...well, unappealing. His Gallery of Regrettable Foods is
here
.