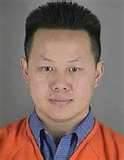 Local news reports
A Minneapolis man was charged Thursday with two felonies in the accidental shooting death of his 2-year-old son earlier this month. 
The Hennepin County attorney's office charged Kao Xiong, 31, with second-degree manslaughter and endangerment of a child in the death Neejnco Xiong, who died after he was shot by his 4-year-old brother. 
According to the charges, Kao Xiong, the boys' father, left several guns within reach of the children.
The criminal complaint said Minneapolis police found four rifles and four semi-automatic handguns in Xiong's south Minneapolis two-bedroom home. Police found some of the guns stored in taped boxes in a laundry basket on a closet floor, and others in a duffel bag in a closet, according to the complaint. Police said some guns were secured in cases, some were not. 
According to the complaint, Xiong told police he and his wife were getting ready for lunch on Dec. 5 when they heard a gunshot. Xiong went upstairs and found his 2-year-old son with a gunshot wound and his 4-year-old son under the bed. 
Xiong told police his 4-year-old son shot the younger boy with a handgun that was wedged between the mattress and pillows of the bed. The Hennepin County medical examiner's office ruled the death accidental.
Why the determination to charge the responsible gun owner cannot be made the very day of the incident is beyond me. What could possible take a month?
What's your opinion?  Please leave a comment.