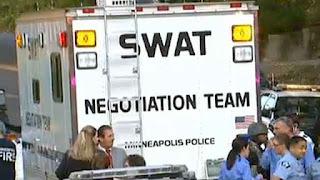 Local Fox News reports
"Several" people are dead, including the gunman, after a workplace shooting in Minneapolis, police confirmed at a Thursday evening news conference.
That's an update from a previous report confirming two people dead and four others injured. Minneapolis Police Deputy Chief Kris Arneson said the exact number of those killed in the shooting could not be confirmed at this time.
The office shooting was reported around 4:45 p.m. Thursday at Accent Signage Systems Inc. on Chestnut Ave. W. in the Bryn Mawr area of Minneapolis, near Interstate 394 and Penn Avenue.
Hennepin County Medical Center confirmed they are treating at four victims from the shooting, including three in critical condition.
The shooter reportedly arrived at the office Thursday afternoon after being terminated from his job that morning. A source tells FOX 9 police have information indicating he may have been targeting specific employees.
Questions:
1. Was he a lawful gun owner
2. Was he an NRA member
3. Did he have a concealed carry permit
4. If you answered yes to any of those, is this kind of thing such a rare occurrence that we can write it off?
What's your opinion?  Please leave a comment.