Insights from a cardboard boat
I have spent the past few days enjoying the beautiful scenery and the chocolate-box prettiness of Exmoor. From the drama of the cliffs and the windswept beauty of the moorland to the charm of thatched cottages round emerald lawns it has been a delight. After a very pleasant walk along the cliff tops and down onto a fossil strewn beach, I stopped off at the Church of the Blessed Virgin in East Quantoxhead. As you can see below, it is a solid and picturesque building adjoining the old manor house.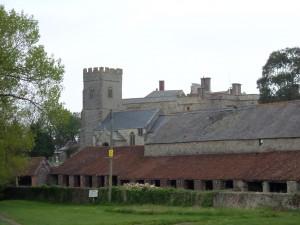 Like most tourists, I wandered in, took a look around at the ancient stonework, admired the carved wooden pulpit, and gazed up at the few panels of stained glass. Before I left, though, I noticed the display of children's prayers below. On a roughly drawn map of Somerset they had been stuck, like little boats adrift on an enormous sea. The one in the centre, about the aftermath of the Somerset floods, really struck home. There was another on the display about looting after the floods. It was a reminder that in pretty places like this the ugliness and need is still there – just as it is in the inner city. People who minister in these historic and picturesque settings have to be just as inventive, perceptive and energetic as those who do it elsewhere. From now on I shall try to make a point of finding the vicar's name on the noticeboard of such a church before I leave, and making sure that I pray for those who are serving God…in the chocolate box.