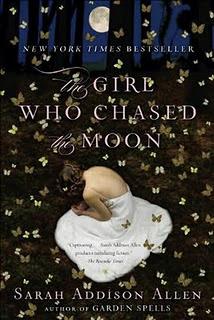 The Girl Who Chased the Moon
by Sarah Addison Allen
Genre: Contemporary Fiction, Magical Realism
Pages: 180 (Ereader)
Source: eLibrary
Description:
Emily Benedict came to Mullaby, North Carolina, hoping to solve at least some of the riddles surrounding her mother's life. Such as, why did Dulcie Shelby leave her hometown so suddenly? And why did she vow never to return? But the moment Emily enters the house where her mother grew up and meets the grandfather she never knew—a reclusive, real-life gentle giant—she realizes that mysteries aren't solved in Mullaby, they're a way of life: Here are rooms where the wallpaper changes to suit your mood. Unexplained lights skip across the yard at midnight. And a neighbor bakes hope in the form of cakes.
My Rating:

Quick Thoughts:
Magical.  Sweet.  Spell-binding. Forgiveness.
I read
The Peach Keeper
by Sarah Addison Allen earlier this summer and have had my eye on this book ever since.  Ms. Allen really knows how to tell a story that grips the reader from the beginning, introducing characters who are unique and sweet.  Strangely, I didn't feel like I was reading at all.  I was just "in" the book and was completely unaware of anything around me.  This sweet read was too short for me. I felt a bit left out of Julia's ending.  Sure I can imagine what happens but I wanted to hear and savor all the sweet goodness of the moments.  I've come to realize that Ms. Allen's books have a "vibe" that I can't wait to feel again.