Little Miss Rilynn is teething. There's a little bump on her lower gum, so we are just waiting to see when it actually pops through. Rilynn has been drooly, cranky and, at times, plain miserable, but over the past few weeks we have found some things that are definitely must haves!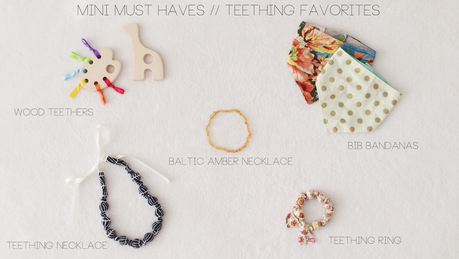 1// Wood Teethers: I absolutely love these wooden teethers. The biggest issue we came across is that other store bought teething items were too big for Rilynn to hold or fit in her mouth (i.e., Sophie the Giraffe is still too big for her). I wanted to find something that was natural and tiny for her small hands. She loves these! They are made from Maple, which is the safest, non-splintering wood. I even took the teether and bit down a few times to make sure the wood wouldn't become jagged, and all it did was put a few dents in it. The cut out makes these very easy for Rilynn to grasp.
2// Baltic Amber Necklace: I will be the first to admit that I was skeptical about these. But after turning to infant Tylenol a few times to help with Rilynn's pain, I knew I wanted to give these a shot! For those of you who don't know what these Baltic Amber necklaces claim to do: they are supposedly a natural solution for easing pain and can lessen the amount of drooling that occurs. Well, I am now a believer! Rilynn drools 100 times less when she wears hers and she is rarely fussy. We only let her wear it while she is awake, but I have put it around her ankle inside a sock during a few naps as well. For us, this necklace really seems to work!
3// Bib Bandanas: Oh my drool! Rilynn can soak 5-6 bibs a day if she isn't wearing her Baltic Amber necklace. Even with the necklace on, she probably goes through a minimum of two. I love these bibs because they look like a fashion accesory, but are very practical! The shape keeps Rilynn from shoving them in her mouth like she does with some bigger bibs we own. On top of that, these have two different layers of fabric and keep her shirt from getting wet.
4// Teething Necklace: This necklace is a lifesaver for both Rilynn and I. Rilynn can easily fit the small, fabric-covered beads in her mouth when we are on the go and I don't have a teether on hand. Secondly, this necklace is a cute outfit addition, instead of looking like some of the other tackier nursing/teething jewelry I have seen. Lastly, this also saves my hair from getting ripped out or my chest from looking like I was mauled by a bear. Rilynn loves to grab things or scratch her fingers on surfaces while she nurses. Whenever I wear this necklace she is fascinated by it, and plays and tugs on it - instead of me!
5// Teething Ring: I was first attracted to this teething ring because of it's Anthropologie-like fabric. I love that it has small, natural wooden beads underneath the cotton fabric. Rilynn loves this thing! She will put the ring on her wrist like a bracelet and it is very easy for her to grasp and chew on. The fabric also absorbs her drool (which is awesome), and every so often I just hand wash it and let it air dry.
Here are some photos of Rilynn using her favorite teething items!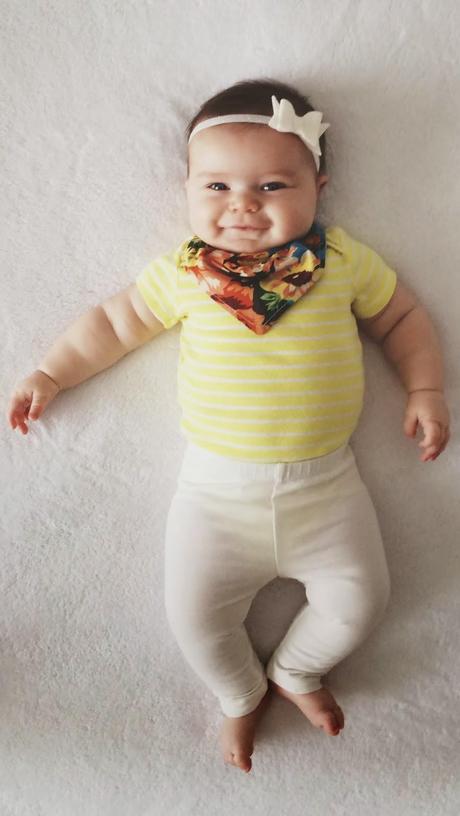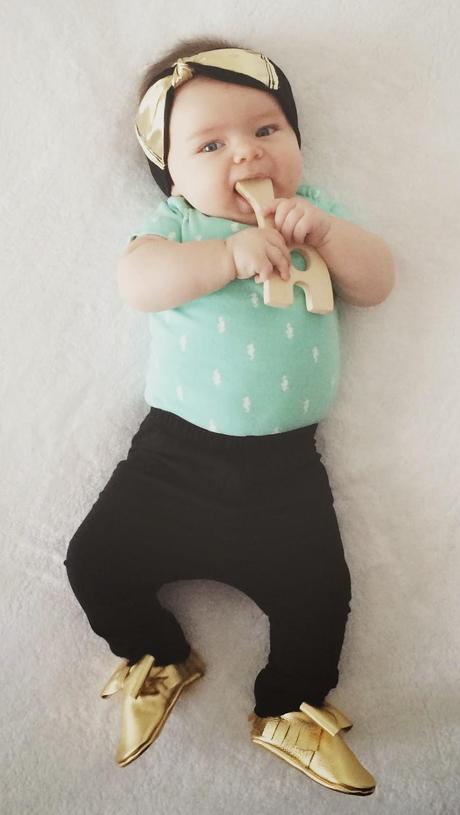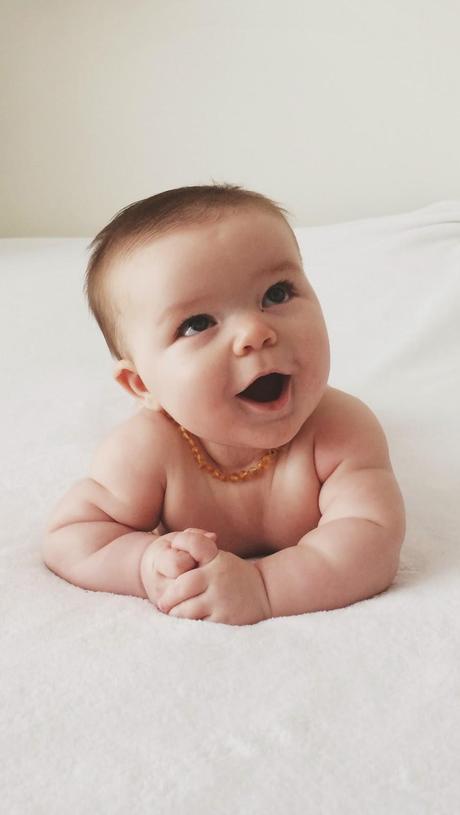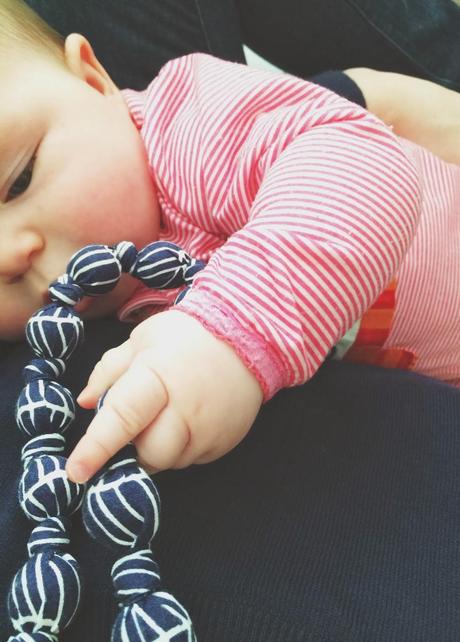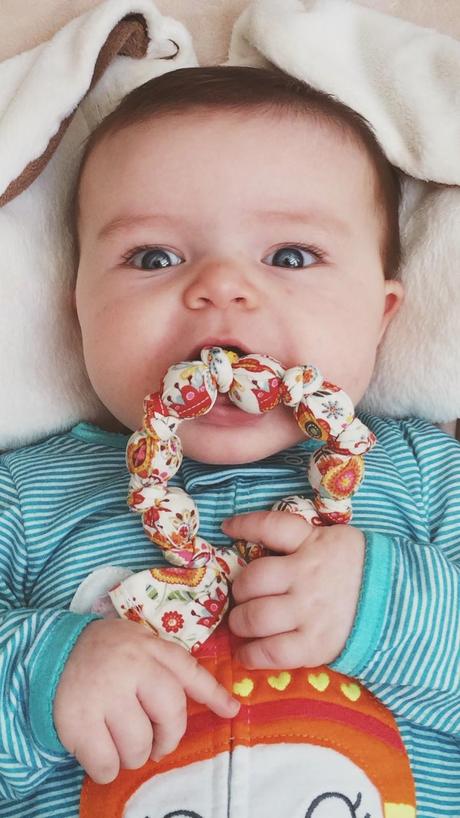 What are some of your favorite items for your teething baby? I especially like finding all natural options!
I would also love to give one of you mamas your own set of all of our favorite teething items! Just head over to my instagram to enter.