Girl loves
madeleines
and I thought it will be a nice surprise for her if I bake some for her.  She has been working really hard and I don't get to see her if I don't send her to school. 
So when I saw H baked these, I thought I will give hers a try.
Finally, I used my new silicone Madeleine mold that I actually bought it for another recipe but as usual, it has been sleeping quietly for a while.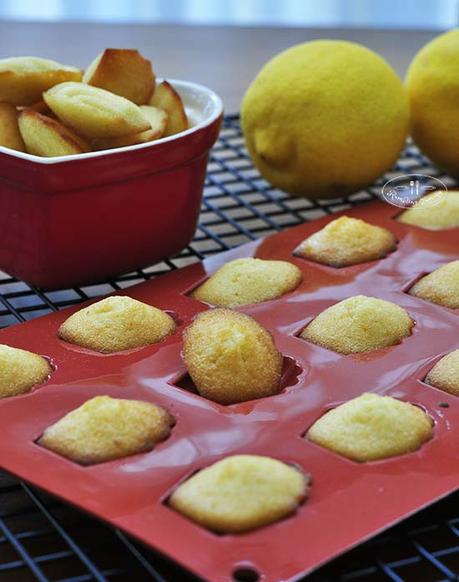 This Mini Lemon Madeleine is so cute.  Really bite size and I beginning to like it because I can just pop inside the mold.  No crumbs drop!
The recipe did not indicate the lemon juice or zest used. So I just add in 1 tsp of lemon oil and 1 lemon zest.
Source
What you need:
10g honey100g butter, unsalted90g cake flour10g almond flour4g baking powder½ tsp salt2 eggs60g castor sugar1 tsp lemon oilzest of 1 lemon
Method:
Microwave butter until dissolved.  Be mindful not to over heat too much or else it will split.
Mix in honey and set aside to cool. 
In a bowl, sift cake flour, almond flour and baking powder.
In another bowl, whisk egg and sugar until combined.
Fold in the flour mixture until smooth.
Add in butter/honey in 3 additions, mixing well in each addition until shiny and smooth.  Transfer to piping bag.  Sealed.
Chill overnight.
Greased mold generously and dust with flour, remove excess.  (Since I am using silicone mould, I omit this).
Let the chilled batter thaw until pipeable stage.
Preheat oven to 180℃. 
Pipe batter into mold.
Bake for 12 – 15 mins or until golden.  (I baked mine at 8 mins since it is mini)
Remove from mold immediately and cool on rack.
Enjoy! 

If you have enjoyed this post by
Rumbling Tummy
, be sure to follow her on
Facebook
, Instagram, Pinterest,
Twitter