These Mini Lemon Blueberry Bundt Cakes are dripping with fruity blueberry glaze. These mini cakes are small enough so that no one has to share!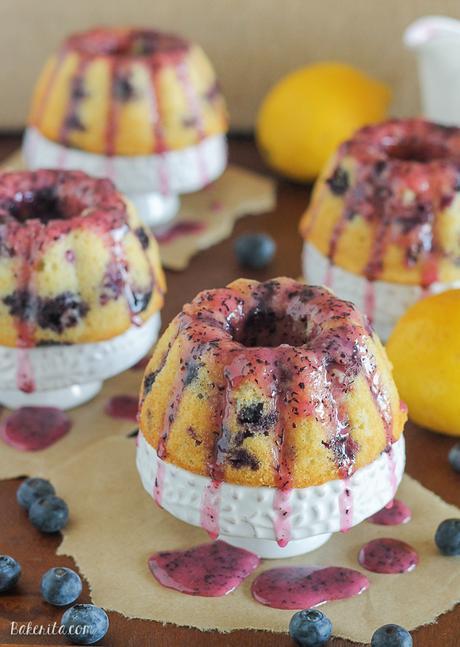 One of the most awesome things about being a food blogger is the awesome community that comes with it. Food bloggers, I'm sure all of you agree with me.  The sense of camaraderie and support for one another always amazes me, and there's always someone to help celebrate successes, both blogging related and life related.
In the spirit of camaraderie and celebration, today I'm bringing you a recipe as part of a virtual baby shower for my friend Cheryl over at 40 Aprons. Cheryl is welcoming a baby boy at the end of September, and a group of us got together to share some delicious recipes in celebration of Cheryl and baby Leo!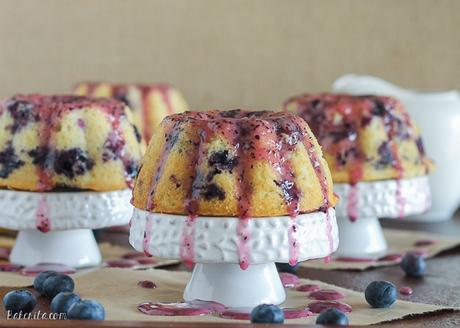 If you've never been to Cheryl's site, she has some absolutely gorgeous photos for some decadent and delicious recipes. I'm drooling over this Vegan Salted Caramel Ice Cream and these swoon-worthy Matcha Raspberry S'mores. I also love her site design – so cute and fun. If you've never been over there, you must check it out.
For this baby shower, I made some of the cutest Mini Lemon Blueberry Bundt Cakes! I've had this mini bundt pan for a while now and rarely used it, and I figured these lemon blueberry cakes would be the perfect treat to show off in cute mini bundt cake form. I loved that these were in cute individual sizes – it's so fun!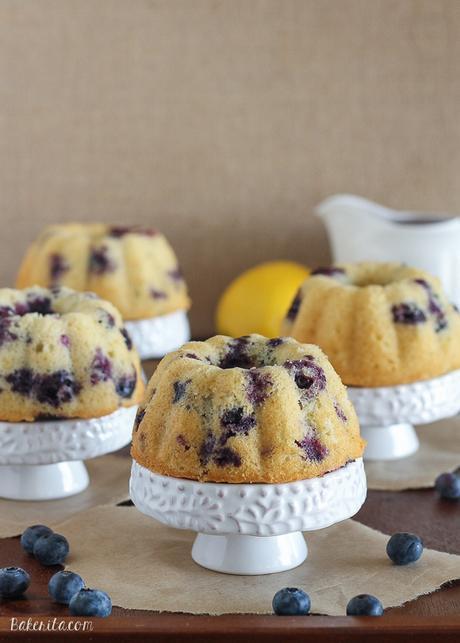 The lemon bundt cake recipe is adapted from America's Test Kitchen Family Baking Book and it creates a fluffy cake with a tender, moist crumb. It uses lemon juice and lemon zest to give it a slightly tangy lemon taste, and buttermilk helps to further enhance that nice tang. It has just enough lemon flavor, and the added blueberries add a nice extra burst of summery freshness.
The glaze comes together super easily in a blender, and is made of juicy blueberries, lemon juice, zest, and powdered sugar. You can adjust the amount of powdered sugar depending on how thick you want the glaze, but it deliciously compliments the cake without being overly lemony, as some lemon glazes can tend to be.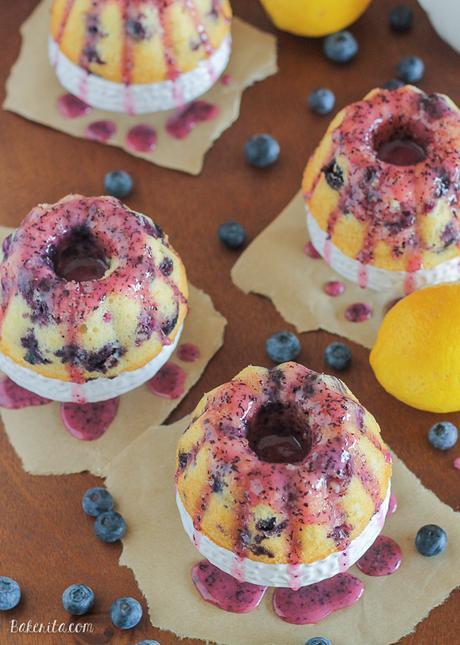 This is the perfect baby shower, or really any celebration, dessert. Check out all of the other delicious recipes from some of my other favorite bloggers, and enjoy!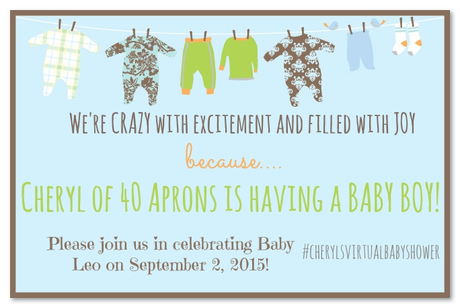 Healthier Oatmeal Chocolate Chip Lactation Cookies by Culinary Couture | Portobello Panini Bites by Heavenly Home Cooking | Mojito Fruit Salad by Simply Whisked | Mini Cookies & Cream Pumpkin Cheesecakes by Flavor The Moments | Baby Carrot & Apple Soup by Thistle Key Lane | Flourless Pumpkin Pancakes by Jessica In The Kitchen | Blueberry Lemon Thyme Cornmeal Crisp by Vanilla and Bean | Caramelized Fig Upside Down Cake by Broma Bakery
Mini Lemon Blueberry Bundt Cakes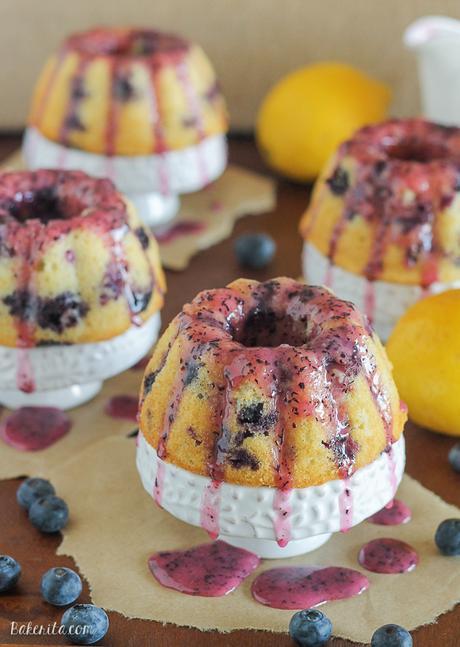 Save
Print
Prep time 20 mins Cook time 30 mins Total time 50 mins   Author:
Rachel Conners
Serves:
8 mini cakes
Ingredients
2 cups (10 oz.) all-purpose flour
½ teaspoon salt
¾ teaspoon baking powder
¼ teaspoon baking soda
½ cup buttermilk, room temperature
1 tablespoon vanilla extract
3 tablespoons fresh lemon juice
2 tablespoons lemon zest
1½ sticks unsalted butter, softened and cut into chunks
1⅓ cups (9.25 oz.) granulated sugar
2 large eggs, room temperature
1 large egg yolk, room temperature
1 cup fresh or frozen blueberries
For the glaze
1¼ cups powdered sugar
½ cup fresh blueberries
Zest of one lemon
1 tablespoon lemon juice
Directions
Preheat the oven to 350°F. With butter and flour, grease each mini bundt pan well (this is the pan I used). You can also use a 10-cup Bundt pan.
In a medium bowl, whisk together flour, salt, baking powder, and baking soda. In a liquid measuring cup, whisk together the buttermilk, vanilla, and lemon juice.
In a large bowl or stand mixer bowl, combine the butter, sugar, and lemon zest with an electric mixer on medium speed for about 4 minutes or until light and fluffy. Beat in the eggs and egg yolk one at a time until combined.
Beat in ⅓ of the flour mixture followed by half of the buttermilk. Repeat with half of the remaining flour and remaining buttermilk. Finish by folding in the remaining flour until just incorporated.
Fill each mini bundt pan about ⅔ of the way full. You may need to bake in two batches depending on your pan.
Bake for about 25-30 minutes, or until a wooden skewer inserted into the center comes out clean. If your using a regular bundt pan, bake for 45-50 minutes. Let cakes cool for 20 minutes in the pan and then flip onto a wire rack to cool completely.
For the glaze
Combine all of the ingredients in a blender and puree until blueberries are blended and glaze is smooth. Add more powdered sugar if you'd like a thicker glaze. Pour over cooled cakes.
Notes Recipe adapted from America's Test Kitchen Family Baking Book 3.3.3077

Hungry for more? Check out some of my similar recipes!
Banana Layer Cake with Chocolate Cream Cheese Frosting
Mini Chocolate Strawberry Layer Cake
Carrot Cake with Pecan Cream Cheese Frosting
Pumpkin Carrot Cupcakes with Cinnamon Cream Cheese Frosting
Hot Chocolate Cupcakes
Paleo Banana Blueberry Muffins