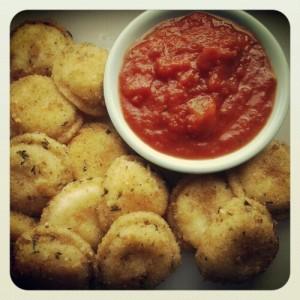 Mini Fried Raviolis
Ingredients:
1 bag of mini ravioli
1 cup of breadcrumbs
1 beaten egg
2 cups of extra virgin olive (or vegetable) oil
Optional: a cup of marinara for dipping
Directions:
1. Prepare the ravioli as described on the package. While waiting for the raviolis to cook, use this time to heat the olive oil in your skillet or non-stick pan. Set on low.
2. In two separate dishes, beat 1 egg and the fill other with the breadcrumb.
3. Once the ravioli are done, drain and set aside to allow to cool.  Take 1 ravioli and dip into the egg, then into the breadcrumb.  Using a fork, gently sift the ravioli out from the breadcrumb and shake off the excess crumbs. Repeat this process as per each ravioli.
4. Carefully place the breaded ravioli into the frying pan or skillet.  Keep the burner on a low to medium setting to avoid burning. Cook ravioli on each side for 5 minutes each or until both sides are golden brown.
5. Pair the ravioli with marinara sauce for dipping.