These Mini Apple Berry Crumble Pies are bursting with tart, juicy berries and tender apple slices, topped with a delectably crunchy crumble topping! Serve with ice cream for the best treat.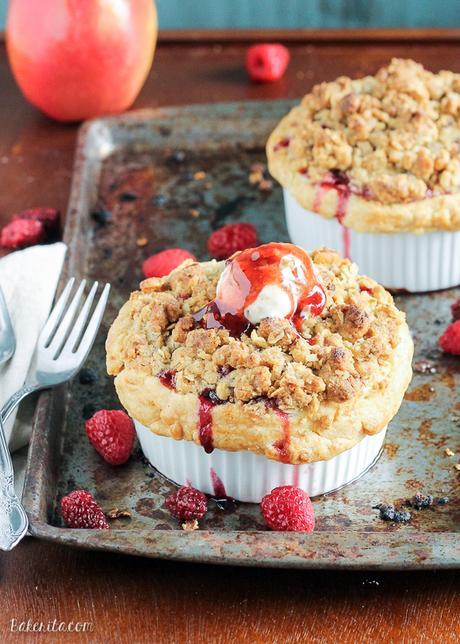 This recipe was created as a part of my ongoing partnership with Delish.com. Click here to go straight to the recipe on their site (and hang around while you're there – they have so many delicious recipes and articles!).
No. 1 on my list of favorite desserts is any kind of apple crumble. It's the one dessert I have very little self-control over, and therefore always have to have people around when I make it lest it go straight from the pan to my mouth..
I'm not an apple crumble discriminator. I like it in many forms. Straight-up apple crumble with silky smooth apples and a crunchy, buttery topping always does the trick, and you can't go wrong with an apple crumble pie, because who doesn't love an extra layer of crust? Add berries to the equation and you have a warm, comforting dessert that is equally tart and sweet and crunchy and soft.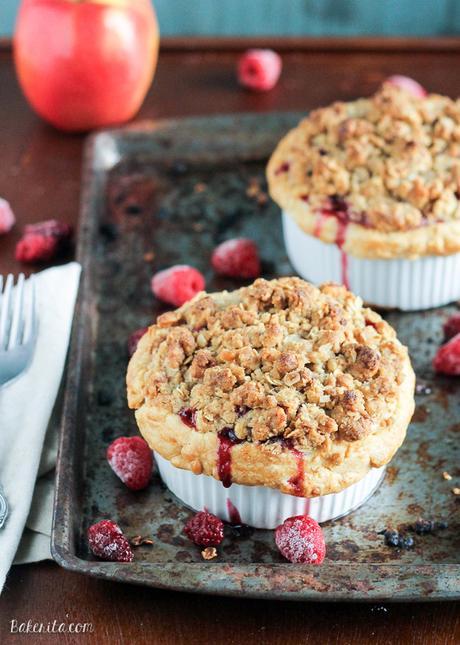 This particular version is perfection; especially for apple crumble aficionados like me. Also, they're mini, which always makes me happy, but in this case gives an added bonus—the mini pies help a lot in the mess department. I made this pie full sized recently and while it was so good, it was also so messy. By making them in ramekins, you get everything you love about a full-sized pie, without the mess. You also get more crust and crumble, which I always think is a good thing.
However, because they're mini, they cook a little quicker. This means the apples have less time to get tender in the oven. To make sure they get soft enough, the recipe calls for reducing the apples and brown sugar for 10 minutes on the stove. This is a super-easy step that helps release the juices in the apples, which makes for a less watery pie with a more intense apple flavor and apple slices with better texture.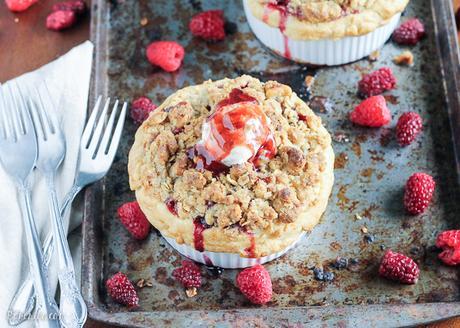 I used a few types of berries: raspberries, blueberries, and tayberries. Use your favorite berries or whichever type you have on hand. Fresh or frozen will both work. As for the crust, homemade or premade are both fine. I used premade crust from Trader Joe's for these and it's so good! If you're looking for a shortcut that doesn't taste like one, the TJ's frozen pie crust is the way to go. No one can ever tell it came from the freezer section, I promise.
These fruity pies make the best of summer fruits and if you're like me, you won't be able to keep your spoon out of them. Enjoy! Click through below for the recipe.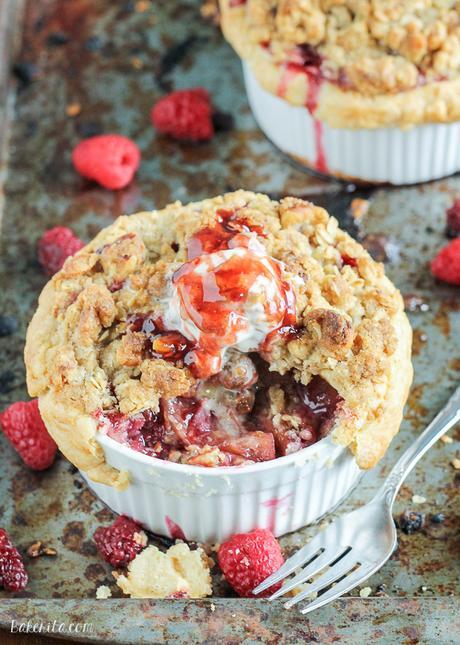 Hungry for more? Check out some of my similar recipes!
Apple Berry Crisp
Caramel Apple Crumble (GF)
Spiced Apple Tart (GF + Vegan)
Small Serving Apple Crisp (GF, Vegan)
Peach Snickerdoodle Crumble
Chocolate Ganache Raspberry Tart