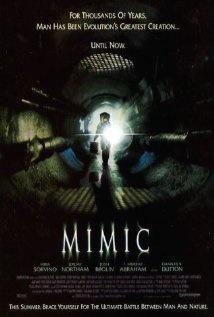 Director: Guillermo del Toro
Writer: Matthew Robbins, Guillermo del Toro (Screenplay) Donald A Wollheim (Short Story)
Starring: Mira Sorvino, Jeremy Northam, Alexander Goodwin,, Giancarlo Giannini, Charles S Dutton, Josh Brolin, Alix Koromzay, F Murray Abraham
Plot: Three years ago, entomologist Dr. Susan Tyler genetically created an insect to kill cockroaches carrying a virulent disease. Now, the insects are out to destroy their only predator, mankind.
There may be spoilers the rest of the review
Verdict: Creature Feature Class Act
Story: Mimic starts by showing a devastating disease running through New York Doctor Susan Tyler (Sorvino) gets bought into solve the problem by Doctor Peter Mann (Northam). Susan finds a cure by introducing the Judas breed of cockroach to eliminate the threat and succeeding by taking out the carrier.
Three years have pasted and not a single case has been recorded. Next we see a priest running for his life from a mysterious creature before falling to his death. We see Chuy (Goodwin) an autistic witnessing the attack. When Josh (Brolin) gets called to a new case we at the very same location it appears a new disease could be hitting New York, bring in Dr Mann to investigate. Dr Tyler gets a visit the same day by a couple of kids looking for some cash when they bring her bugs and one of these bugs they have found is one of her Judas breeds. That very same night the creature visits Susan and takes the Judas breed.
The next day Tyler and Mann investigate where the kids find the bugs before getting kicked out by Officer Leonard (Dutton). We know that the creature is lurking and hunting, we it make quick kills of anything that threatens its safety. Returning to the subway system with the permit Peter, Josh and Leonard start looking into what could be in the sewers now. We see Susan' co-worker Remi (Koromzay) locates remains of a dead Judas breed that is bigger than anyone thought possible. We also watch Manny (Giannini) search for his son Chuy after he goes in search for funny shoes as he calls it.
Peter, Susan, Leonard and Manny find themselves trapped inside the home of the Judas breed and have to find a way out before it is too late and the creatures escape to the surface.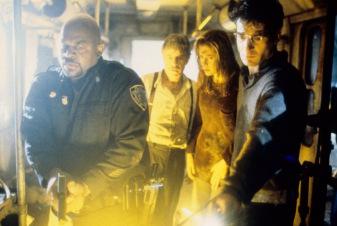 Mimic tells the story of playing God can have side effects especially if you were to rush the results. We get the whole evolution sped up idea which works nicely because we can end up with a creature that could look like anything. I do think everything comes together nicely on here because the film isn't afraid to make children the victims which adds to the deadliness of the creatures. I also think managing three stories to meet at the end helps the story not get bogged down following just one hero instead it gives us 4 separate ones. When it comes to this genre this is one of the better films and follows everything that needs to happen. (8/10)
Actor Review
Mira Sorvino: Dr Susan Tyler a bug expert who cures a disease problem only for three years to pass where the creatures she created have evolved into human size killing machines. Mira does a solid job in the lead role but doesn't shine as much as the film requires her too. (6/10)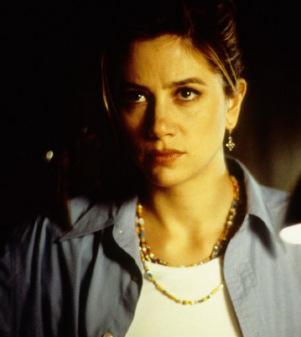 Jeremy Northam: Dr Peter Man CDC member who bought in Susan to solve the problem and over the time the two get married, but he gets the call to try solve the latest disease outbreak. Peter investigates only to find the Judas cockroach has continued to evolve in the subway system and has to find a way to stop it. Jeremy proves to be a good choice in the role as we get the character who is clearly out his depths here. (7/10)
Giancarlo Giannini: Manny subway shoe waxier whose autistic son investigates the creature going missing in the process, leading to him getting lost in the subway searching for his son and fighting for his life. Giancarlo does a solid job in the supporting role, playing the everyday hard worker who gets caught up protecting his son. (6/10)
Charles S Dutton: Leonard security guard at the subway who ends up being the guide to the underground but he reaction against the idea of the human size cockroaches provides the best of all of the people in the film. Charles becomes the most normal character in a situation where there are giant cockroaches shouting and shooting first. (7/10)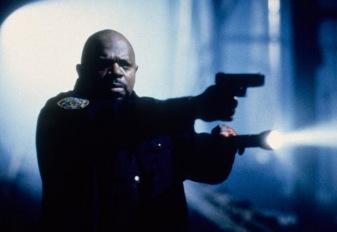 Support Cast: Mimic has a supporting cast that gives out information as well as a few becoming the victims of the creatures. Each member helps drive our main characters motives.
Director Review: Guillermo del Toro – Guillermo is known for disowning this film and while it isn't on the same level as his numerous classics it still ends up coming off solid for the genre. (6/10)
Horror: Mimic ticks all the boxes for a creature feature horror film. (9/10)
Sci-Fi: Mimic shows what happens when you play with genetics without studying the true results. (9/10)
Settings: Mimic uses the subways and sewers are the main settings for anything involving the creature showing just how much could be going on underneath a city. (9/10)
Special Effects: Mimic has special effects that have started to date now because we can tell the CGI is there with the creatures. (4/10)
Suggestion: Mimic is one for all the creature feature fans to watch as well as most horror fans will enjoy this one. (Horror Fans Watch)
Best Part: The fact no one is safe, too many films overprotect to hide horror.
Worst Part: CGI looks bad now.
Believability: No (0/10)
Chances of Tears: No (0/10)
Chances of Sequel: Has 2 sequels.
Post Credits Scene: No
Oscar Chances: No
Box Office: $25.5 Million
Budget: $25 Million
Runtime: 1 Hour 45 Minutes
Tagline: A Bold Experiment. A Deadly Mistake!
Overall: Mimic is a film that really isn't afraid to pack a punch when it comes to victims but ends up becoming a foreshadowing to Godzilla (1998).
Rating