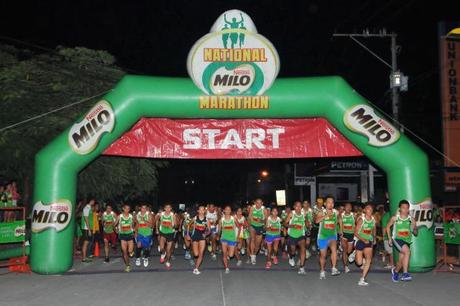 Comendador, Calabroso to lead Tagbilaran qualifiers to finale.
Press Release: Manila, Philippines, 15 September 2013 – Over 6,153 athletes, students, and running enthusiasts competed in the eighth qualifying leg of the 37th National MILO Marathon Sunday in Tagbilaran City. Students Emmanuel Comendador and Teodelyn Calabroso overpowered their closest 21-K division rivals to take home the P10,000.00 top purse and trophy. Both athletes will lead other qualifiers to the finale in December.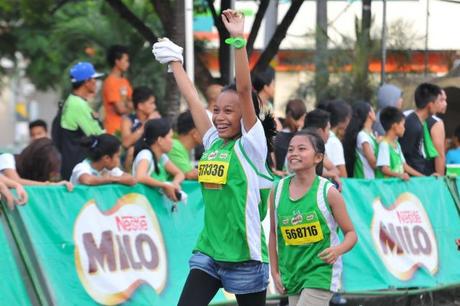 To further its commitment to providing opportunities for Filipinos to compete with the world's finest athletes, MILO will be sending this season's MILO Marathon King and Queen to the Paris Marathon next year.
Despite losing his way in the middle of the race, 24-year old Comendador rallied through the 21-K track and posted an impressive 1:16:05, followed by a distant second Jordan Bacong (1:17:47) and Dodong Vosotros (1:20:07) in third. The Marine Engineering major is a fixture at local marathons and triathlons, which, he expressed, is how he stays conditioned for the races even without a solid training routine.
"I am not normally trained for marathons, so I gain my stamina and strength from biking and swimming," said Comendador. Earlier this year, the TriBohol member was the first Filipino to finish both the Captivating Camotes Triathlon and the 21-K Bohol International Marathon, and was part of the top ten Filipinos to finish the Vaseline Men Xterra Off-road Triathon Championship.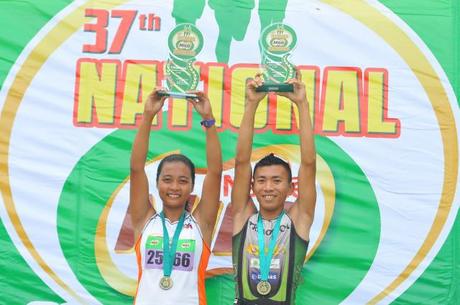 In the distaff side, 20-year old Calabroso overcame the difficult terrain and crossed the finish line at 1:43:44, way ahead of counterparts Leonora Villamor (1:54:43) and Alma Piquero (2:13:48). The
BIT-International College
student finished second in last year's National MILO Marathon Tagbilaran 21-K race and finished in the 21-K category of the Boholympics 2012.
Calabroso, a varsity distance runner, expressed that her performance improved significantly this year. "I only placed second last year, so it feels food to finally top the ranks this season. I've worked hard on my speed through interval training. I'll train harder for the upcoming finals," she said.
"MILO drew new records across all its sports programs this season. We are ecstatic that more and more people, especially the youth, are being engaged to take a step toward a fit lifestyle not only through running but also other sports. As we approach our 50th year, we will continue our mission of leading grassroots sports development and form a stronger Philippine sports community for the next generation of champions," said MILO Sports Executive Andrew Neri.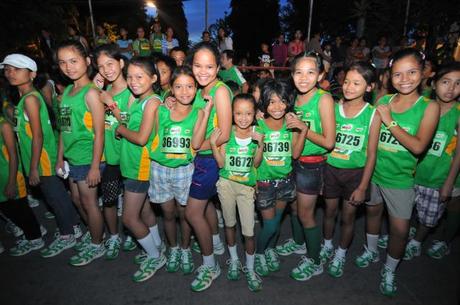 Through MILO's Help Give Shoes advocacy, 500 pairs of running shoes were delivered to beneficiary schools in Tagbilaran today, including Tangcasan
Elementary School
, Kinagbaan Primary School, Lourdes High School, Doljo Elementary School, and Ubujan Elementary School. With the invaluable support of the Department of Education and National MILO Marathon runners, MILO has given pairs of running shoes to 28,700 public school children to date.
The qualifying race will resume in Cebu on September 22, before shifting to Cagayan de Oro (September 29), Butuan (October 6), Davao (October 13), General Santos (October 20), Baguio (November 3), Dagupan (November 10), Tarlac (November 17) and Angeles (November 24).
The 37th National MILO Marathon is made possible by Timex, the Bayview Park Hotel Manila, Reebok, SMART and SM Mall of Asia, along with endorsements from the Department of Education, Philippine Sports Commission and the Philippine Olympic Committee. For more information on the race and its advocacy, visit the MILO marathon website or access the MILO Philippines fanpage on Facebook. Follow MILO on Twitter (@MILOPH).
About the National MILO Marathon
The National MILO Marathon is an annual marathon event open to amateur and professional runners. From its humble beginnings in 1974 as a single marathon race in Metro Manila attended by 747 participants, the National MILO Marathon has grown to be the biggest, longest, grandest national running event in the country attracting more than hundreds of thousands of runners across the country. The race is organized by RunRio, Inc.
16.033333
120.550000