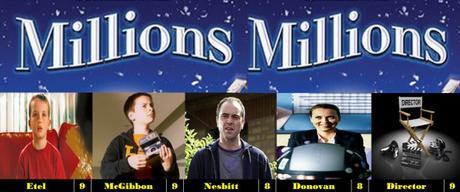 Director: Danny Boyle
Writer: Frank Cottrell Boyce (Screenplay)
Starring: Alex Etel, Lewis McGibbon, James Nesbitt, Daisy Donovan, Christopher Fulford
Plot: Ethics, being human and the soul come to the fore when a 7-year old finds a bag of Pounds just days before the currency is switched to Euros and learns what we are really made of.
There may be spoilers the rest of the review
Verdict: Delightful
Story: Millions starts with Europe changing currency to the Euro and in this world the UK is about to too, two young boys Damian (Etel) and Anthony (McGibbon) are moving with their father Ronnie (Nesbitt) to a brand newly built house.
When Damien the religious of the two boys has visions of different Saints coming to visit him hoping one would know his mother in heaven he ends up being rewarded with a bag of money. Sharing it with his brother the two have different ideas of what to do with the money Anthony wants to invest while Damian wants to help the poor of the world like the Saints would have.
As the differences between the boys continues to come through they learn about a money robbery that their bag is actually one of making the boys want to be extra carefully with their money but as the time comes together the heart Damian has help people comes through.
Thoughts on Millions
Story – The story going on in Millions is bar far one of the best in as we see how two boys are both dealing with tragedy of losing their mother and both dealing with in in different ones, our main focus is on the one that has turned to religion for answers. We see how two children would deal with having large amount of money suddenly. The ability this story has to balance what is right and wrong works very well throughout which makes us wonder what we would do in the same situation.
Comedy/Crime/Family – The film has light moments of comedy going on through the film but it is about the family connection with the crime background going on through the story. each genre balance the story well to make us care about what is going on throughout.
Characters/Performance – The two boys both give wonderful performances throughout with great performances from Nesbitt and Donovan complimenting the two. The characters also come off likeable throughout as we see Damian as the nice kind hearted boy next to the business hunger older brother.
Settings – The settings all work showing the everyday life style these characters would be involved in which brings this story down to Earth for us to enjoy.
Final Thoughts –This is one of the nicest dramas you will see this year, that shows us that at Christmas you should be giving rather than being selfish with the only one that can see this is Damian the youngest child.
Overall: Wonderful Christmas story from a modern world idea.
Rating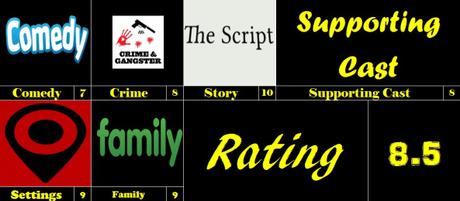 Advertisements
&b; &b;