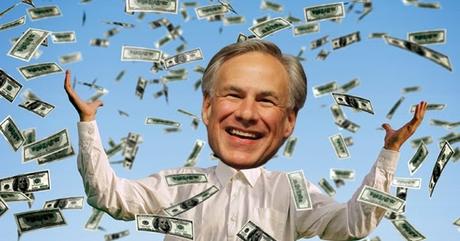 (The image of Greg Abbott above is from the website of Progress Texas.)
The following post is from Lone Star Project:


Disclosing information like income tax filings late on a Friday to avoid press coverage is standard political behavior. However, distorting and manipulating the information to hide the facts is patently dishonest. Last Friday, Greg Abbott did just that – he selectively added, and withheld other, important information in a press statement to hide the fact that he paid 

only $104 in federal income taxes last year

 – a rate of under one percent – which is far less than what the average Texan pays.




According to tax documents he made public, Abbott was paid $134,000 in salary as the Attorney General last year. Rather than being straight up and stating that he took advantage of a series of deductions, exemptions and exclusions to reduce his tax bill to only $104, he implied that he had a 

39.96 percent tax burden

 due in large part to property taxes – most of it on his approximately 

million dollar home


It was a sleazy move. Greg Abbott included his property taxes to mask his actual income tax payment. Abbott also, of course, did not mention that he is a very wealthy man as a result of a 

multi-million dollar personal injury settlement

 he was awarded and that is paid to him as an annuity. Abbott pays NO taxes on his multi-million dollar personal injury settlement.