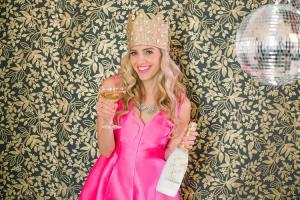 Millennial foodies are the new "tastemakers". What Millennials want in food today is what the rest of the world will soon be asking for. This savvy generation loves lots of informal celebrations, intense flavor profiles, ethnic cuisines, more natural foods and lots of snacks. Champagnes like Chandon are courting Millennials as an irreverent celebration alternative to their parents' brands and are designing bottles to fit their occasions.
Restaurants are working hard to cater to millennials as their incomes and spending habits grow.   Here are some important facts to understand.
 They eat out more often.  53% of the group goes out to eat once a week, compared with 43% for the general population. They eat out more often in all categories – quick serve, casual dining and fast casual.  While they all eat fast food, millennials don't want to admit to eating it.  They are the least likely to recommend fast food to others.  Fast casual is their favorite.  Millennials compose 51% of fast casual customers.
They want healthy food which means fresh, less processed and with fewer artificial ingredients.
They want food that comes from socially responsible companies.  Types of companies that they like include those who have principles around fair trade, sustainability and fair wages.   Companies that exhibit these qualities include Starbucks and Chipolte.
They like to support local restaurants.  Again this means higher quality food, social ethics, ethnic foods and flavor profiles.
They want convenience which translates to easy online ordering, stellar apps and rewards programs. Starbucks has scored big with their new app revamp for pick-up orders.
Sriracha is on everything.  It is stocked in 9% of American households and in 16% of those under 35.
They celebrate a lot.  According to CEB Iconoculture, Millennials are celebrating more than just the traditional holidays. Super Bowl Parties, May the 4th Be With You celebrations (for Star Wars fans), and single girls' gatherings for Valentine's Day are just a few ways Millennials are celebrating outside of traditional holidays.
The line between snacks and meals is blurring. According to research by Barkley and BCG, Millennials tend to snack far more than older generations. It is very common for Millennials to regularly have snacks in the mid-morning, mid-afternoon and late at night.
On the alcohol side of things, Chandon reports that 27 percent of adult millennials now choose beer as their favorite alcoholic drink and a lot of that beer is craft beer.   But beer consumption is down from 33 percent in 2012, leaving room for other products including vodkas, wines and sparkling wines.  Millennials like craft brands and made-for-me brands.  Chandon has targeted Millennials with its "celebrate everyday" strategy, moving sparkling wines from only end of year special occasions to everyday occasions.  Since Chandon is technically not Champagne since it is from Napa Valley, the wine has become Americanized.  Chandon has been able to reimagine how sparkling wine can be consumed—and by whom.  Chandon typically sells for a lower price point as well.
But price alone is not enough to lure young adults.  They seek an experience.  Chandon has given the classic champagne bottle a trendy makeover and creates seasonal designs for its bottles.  Last year Chandon put out three limited-edition bottles that are scrawled with the phrases "The Party Starts Here," "Bring on the Fun," and "I am the After Party."   Ideally, consumers can pick out the bottle that matches their personality.  Their marketing also matches this new look with a heavy dependence on social media using image heavy social platforms like Instagram.
"Any marketer will tell you that it is very difficult to change consumer behavior," Cristian Yanez, VP of Estate and Wines at Moet Hennessy USA, Chandon's parent company says. "But with sparkling wine, we've found that a simple approach works best. I know it sounds a bit basic, but just giving people another excuse to drink a bottle of sparkling wine is sometimes all we need to do."