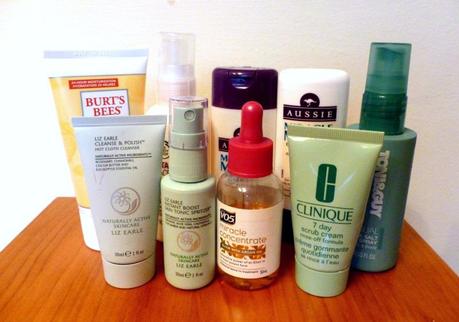 Ok, so I know holiday season is nearly over. Sob. Nevertheless, I wanted to share with you my essential holiday (or hot weather) products - what I took to Spain with me and couldn't do without. 
Aussie Miracle Moist Shampoo and Conditioner* - just amazing! My hair always feels pretty fragile when on holiday... I don't think a mixture of heat, swimming pools and sea provide the best environment for healthy hair, so I make sure I use something extra nourishing to wash and condition it with. Aussie Miracle Moist does just that! The minis are a good size too - even with all my hair (and excessive hair washing) I used just one of the mini shampoos, and about one and a half of the mini conditioners in the space of a week.

V05 Miracle Concentrate -
continuing with the hair theme, I took this instead of my usual hair oil just because it was small and still does a pretty good job. I used this on the ends of my hair morning and night, when both wet and dry, to try and give it as much moisture and nourishment as possible. 

Toni and Guy Sea Salt Spray -
final haircare product I used was this sea salt spray. Wont talk much about this as I reviewed it earlier in the week - if you read that then you'll know I wasn't over impressed so wouldn't say it was a must-have, but it did help to create natural looking waves with minimum effort. I was hoping I'd look like one of those hot Australian girls with 'tousled tresses' and minimal make up, but it just wasn't meant to be. 
Liz Earle Cleanse and Polish and Skin Tonic - couldn't go a whole week without these, so I brought mini versions! The small tube of cleanse and polish lasted a whole week (using it both morning and night) which actually surprised me, I thought I might run out. I love this little spritz version of the skin tonic, which I kept in the fridge and spritzed on my face throughout the day to refresh my skin. Rich even got a few unsuspecting spritzes and he didn't complain - must be good!
The Body Shop Vitamin E Face Mist - this was also kept in the fridge, and sprayed on my face after washing. Seeing as I was using suncream on my face everyday, I wanted something lighter as a moisturiser and this does the job perfectly. Again, refreshing and cool.
Clinique Seven Day Scrub Cream -  my exfoliator of choice; effective but not too harsh on the skin. I've got a whole load of Clinique minis from various Bonus Times which are so handy for holidays and weekends away!
Burt's Bees Milk and Honey Body Lotion* - this was part of the Fluorescent PR Press Day goodie bag, and I have got so much use out of it! A nice, thick body lotion which doesn't irritate my skin. I am prone to rashes and skin irritations on my legs which a lot of moisturisers (especially ones containing fake tan) irritate, much to my friends' amusement. I was nicknamed Rashid after I got a rash on my legs in Tunisia one girls' holiday and have never lived it down! But this Burt's Bees one seemed to soothe rather than irritate, and did an excellent job of calming down my sunburn!
Do you have any holiday or hot weather go-to products?