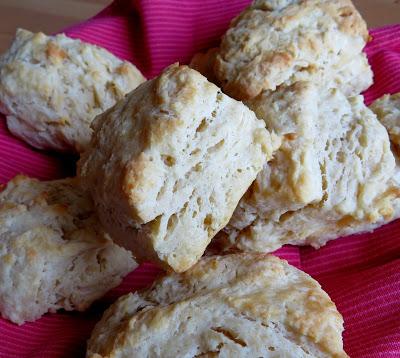 I think you are really going to enjoy these delicious biscuits I am sharing with you today, and by biscuit in this case I mean bread/biscuits, not cookie/biscuits!  Over here in the UK, they call cookies biscuits.  They don't really do baking powder biscuits, although they do scones.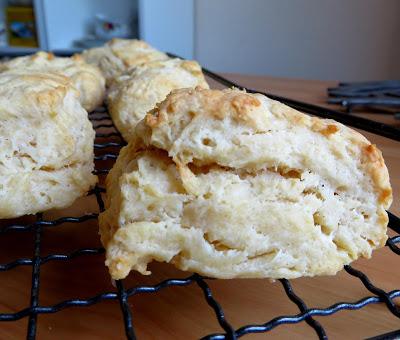 Scones and biscuits are two entirely different things.  The difference mainly boils down to one single ingredient and that is an egg.  Scones usually contain eggs, biscuits normally do not.  Biscuits tend to be flaky, whereas scones tend to be crumbly and more cake like.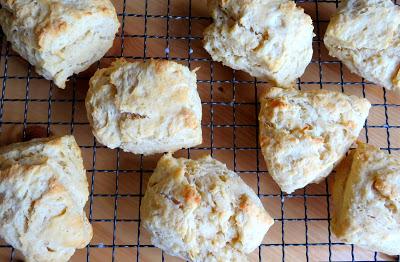 When it comes to flaky, they don't get flakier than these Mile High Greek Yogurt Biscuits!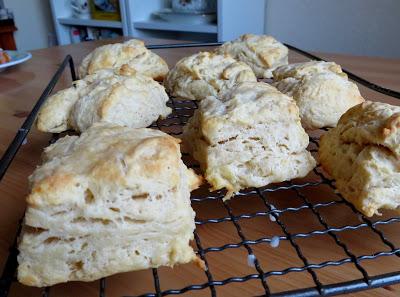 Just look at all of those flaky layers . . . because the butter in this recipe  is quite cold when blended in and is only coarsly blended into the flour mixture, when it melts it leaves lots of air pockets, which is what creates all of that flakiness!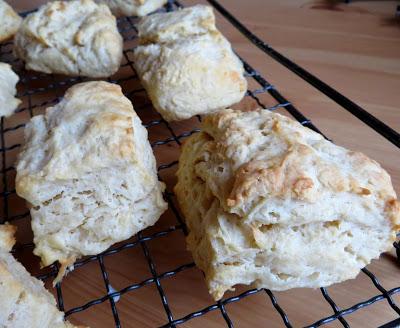 And yet . . .  there are only 4 TBS butter in the whole recipe, which works out about 1/2 TBS per biscuit.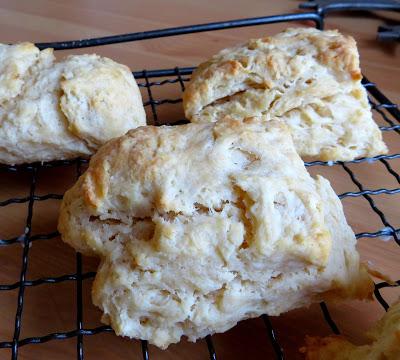 More of the flakiness comes from the baking powder reacting with the acid in the Greek yogurt, causing the dough to expand exponentially.  (Love that word!)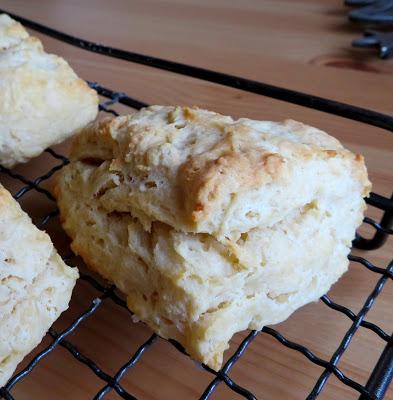 The end result is a biscuit that is light as a cloud, and filled with lots of flaky pockets.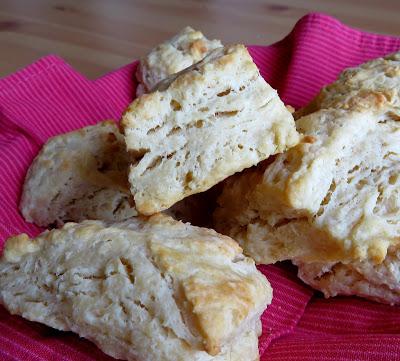 Because the biscuits themselves are relatively low in fat, you don't need to feel guilty at loading them up with cold butter when it comes to the eating.  What's your favorite thing to enjoy with hot biscuits?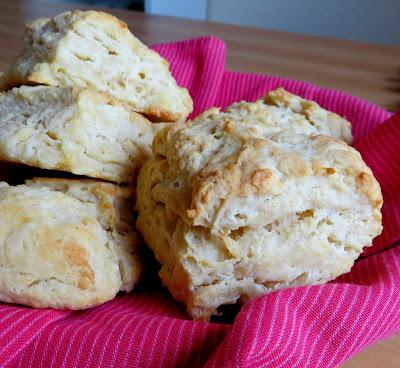 Personally I love them spread when they are hot with plenty of cold butter and creamed honey. OH boy  . . .  you don't get much better than that!  Unless you add some shaved ham in between  . . .  mmm . .  mmm . . .  mmm . . .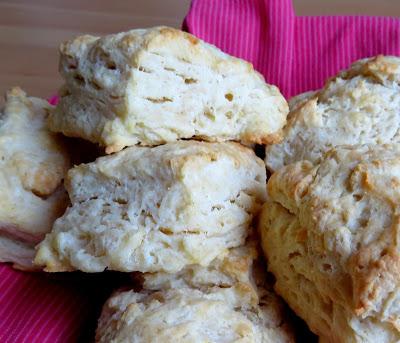 Hot biscuits, cold butter, creamed honey and shaved ham . . . .  a bit of baking powder biscuit heaven to my way of thinking, and no, I am not from the South.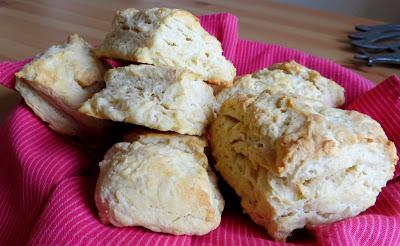 Athough Nova Scotia (where I am originally from) is in the Bible belt of Canada, which kind of equates to the Southern States which are the Bible belt of American and where they really enjoy their biscuits and ham!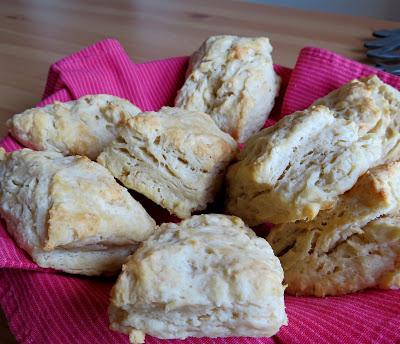 One thing is for certain and that is this . . .  these are delicious and a real family pleaser whether you serve them with honey and ham or not.  Butter is not optional. If you are a person who eats biscuits without butter you are on the wrong page!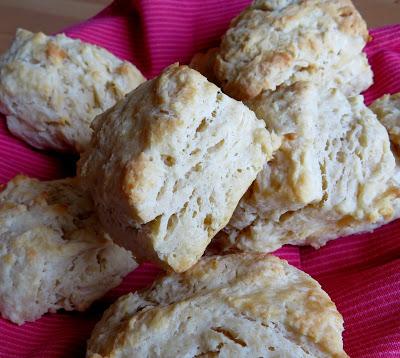 Mile High Greek Yogurt Biscuits
Yield:
8
Author:
Marie Rayner
These easy biscuits rise really tall and flaky, but are considerably lower in fat than many others.  Fabulously tasty!
Ingredients:
280g plain flour (2 cups unbleached all-purpose)
2 tsp baking powder
2 tsp sugar
1/2 tsp fine sea salt
4 TBS cold butter
245g low fat Greek yogurt (1 cup)
Instructions:
How to cook Mile High Greek Yogurt Biscuits
Preheat the oven to 190*C/375*F/ gas mark 5.  Have ready a baking sheet.
Sift the flour into a bowl along with the baking powder. Stir in the salt.  Drop the cold butter into the bowl and cut it in with a pastry blender, until the flour mixture resembles coarse sand with chunks of butter the size of small peas.  Using a fork stir in the yogurt.  Gently mix to a soft dough in the bowl.
Tear off a sheet of baking parchment large enough for your baking sheet.  Put the dough on the sheet of paper and pat out to a rectangle, roughly 1 inch in thickness.  Cut into 8 smaller rectangles.  Gently push them apart leaving plenty of space in between. Carefully transfer the paper to the baking sheet.
Bake in the preheated oven for 15 to 18 minutes, or unti they are well risen and golden brown on the top and bottom.  Best enjoyed whilst still warm.
Did you make this recipe?
Tag @marierayner5530 on instagram and hashtag it #EnglishKitchenCreated using
The Recipes Generator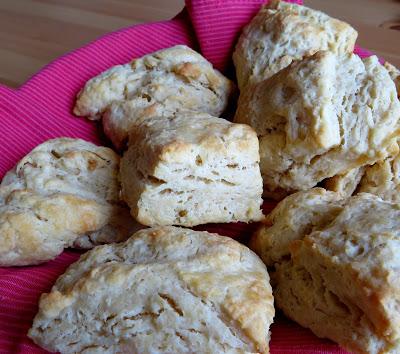 All kidding aside you really do need to bake these biscuits for your family this weekend.  Not only are they low in fat and high in flake and flavour, but they are very quick and easy to make as well. Just remember one thing and you'll be okay.  A light touch is always the best option when dealing with biscuits. Oh, and another positive thing, no flour is wasted in this recipe.  Every scrap gets used up.

Follow my blog with Bloglovin