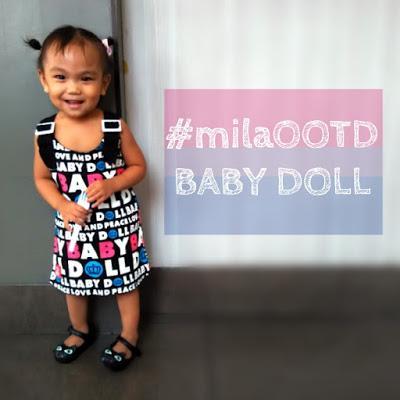 #milaOOTD: Baby Doll
May 2015
Dress: Lola's Gift from Japan
Shoes: Mini Melissa Black Cat 
You may not have missed me blogging about my life but I bet you miss #milaOOTD's. I sure did. 
Daughters are so much fun! I got a living doll. One I can dress up and play with. And it's so much more exciting because my doll has her own taste and style. I can argue with her, I can have her do what I want, orl I can just give up and let her make all the decisions. This baby doll never boring. She can even work her charm on anyone if she choose to. 
Case in point: we were having our lunch AT Jollibee right before church. She's done eating but we still have a lot of time before service starts. The whole time we were eating, she won't get her eyes off the mural. When we let her walk to it, we realized she wanted to get the big fries! The manager noticed and could not stop laughing. Mila just looked at him and said hi before saying, "Fries Please?!" That got the managers heart and we went home with free balloon and ice cream cone. 
#uberlatepost She wanted to get the humongous fries 🍟A photo posted by chronicles of life with mila (@milastolemyheart) on Jul 17, 2015 at 4:43pm PDT