Minimal, Scandi-style ladders are a modern interior trend that is here to stay. Combining a contemporary decorative feature with practical towel storage, they are the epitome of Danish design where form meets function. 
But only now has heat played a part in that excellent functionality. Meet your new favorite heated towel rail, the Milano Indus.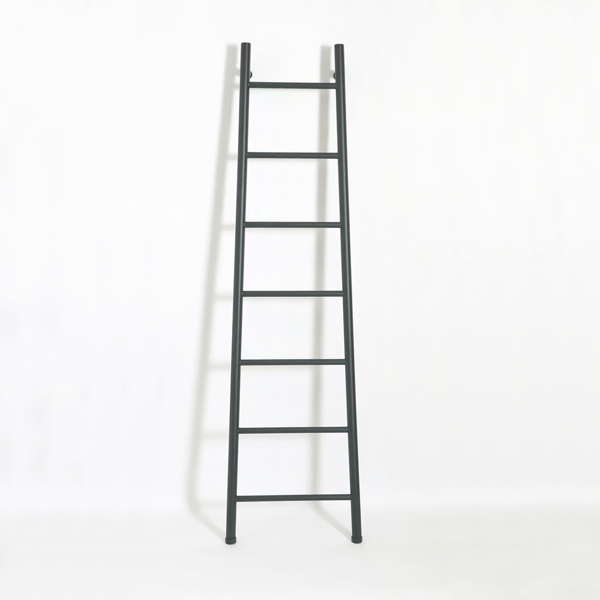 Design
With clean lines and a modern, understated aesthetic, this beautiful collection looks as good as it performs. 
Designed to keep towels warm and dry, each Indus radiator features seven stacked rails in a stylish, vertical ladder design measuring at 1800mm tall and graduating from 369mm to 500mm wide towards the floor.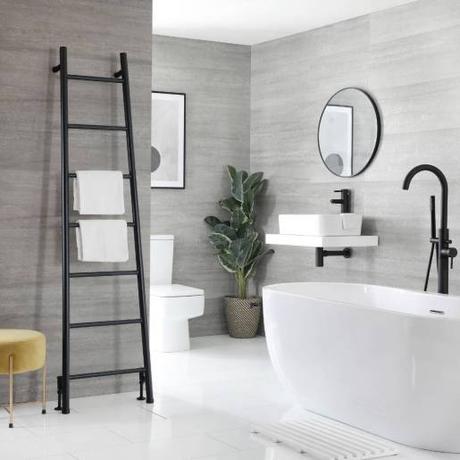 But why stop at the bathroom? We love ladder rails in the bedroom and living room too! 
Imagine stepping out of bed on a cold winter morning and putting on a warm dressing gown or toasty outfit that has been waiting for you. 
Not only will this create a stylish, effortless feature to display your selected items, but it will make those early mornings that little bit kinder. 
Planning a cosy movie night? Install an Indus in the living room, hang your fave throws and get wrapped up in a snuggly blanket of warmth and comfort. 
Interior design is all in the details, that's why the Indus is available in four high quality finishes to complement other fixtures and fittings.
Choose from modern matt black, classic chrome, beautiful brushed gold and attractive anthracite to enhance your dream color scheme.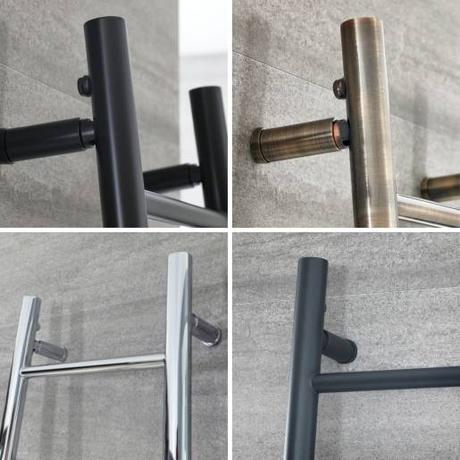 Heat Output
The Milano Indus has a superior quality steel construction, providing 1348 BTUs at Delta T50. Just like with any other radiator or heated rail, please remember to use our BTU calculator to ensure that the Indus will provide enough heat for your space.
If the BTUs fall short, you can always install an Indus with another radiator that adds up to the total required BTUs. This is a common solution in large bathrooms where a heated towel rail may not provide enough heat alone.
Valves
For a clean, coordinated look, select a set of valves that match the finish of your Indus rail. You can also choose whether you prefer a more minimal or traditional style valve to complement your decor. 
Another fantastic feature the Indus offers is the option to use angled or straight valves to suit your pipework. 
For example, if your pipes come up from the floor you can install angled valves to connect the pipes to the rail. Or, if your pipes come out from the wall, you can connect them to the rail with straight valves.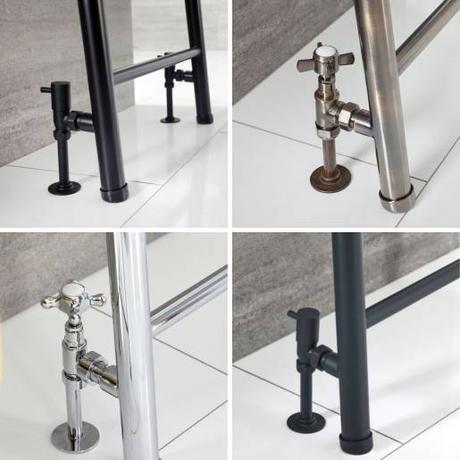 Installation
Please note that the Milano Indus is only suitable for use on indirect or sealed central heating systems including combination boilers.
The provided fixings are for solid brick walls only. Therefore, if you are installing on any other surface please check that it will safely support the rail and purchase suitable fixings if required. 
The Indus must also be securely fixed to both the floor and the wall in order to support the weight.
Ladder Inspo
Where's your favorite place to position a stylish ladder feature? Take a look at some of these gorgeous examples to give you an idea where you might want to install a Milano Indus! 
View this post on Instagram

A post shared by Theresa Gromski (@theresa_gromski)
View this post on Instagram

A post shared by Laura (@the_indigo_house)
View this post on Instagram

A post shared by nørdic llar (@nordicllar)
View this post on Instagram

A post shared by 𝐄𝐌 | 𝐇𝐎𝐌𝐄 𝐈𝐍𝐓𝐄𝐑𝐈𝐎𝐑 𝐄𝐃𝐈𝐓 (@homeinterioredit)
Got A Question?
If you would like some more info about our new Indus collection, get in touch with us via our live chat on our website. Or, send an email to [email protected] and we will be happy to help!
For general heating FAQs, head over to OK BestHeating.