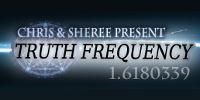 I was a guest on Truth Frequency Radio (run by Chris and Sheree Geo out of Texas) in February and May of 2010.
Recently, the Truth Frequency News website has ben re-posting some of my Free Planet posts. It was (logically) only a matter of time before the 'invite to appear' on the radio show would once again drop into my inbox.
Seems that day has come.
Obviously 'schedules have to be synchronised' but it looks like I'll be appearing in one of the four hours of their Saturday Show 10pm-2am, that translates to 4am-8am Sunday morning here in UK. I'll try to wedge in some discussion of the (obfuscating) NEED TO KNOW game, the Free Planet movement and my forthcoming novel 'You The People'.
More exact details (and timings) closer to the date.