My amazing, wonderful, inspiring dad just celebrated his retirement. He's been retired for several months now (the timing of his retirement coincided with the passing away of my mom, so his achievement went under the radar for awhile) but the celebration was just last weekend. Caitlin and I were able to make it just in time for the speeches and celebrating (thanks, traffic gods!). He worked for the Washington State Department of Fish and Wildlife for 30 years, and the state of Tennessee for nine years prior to that. I really liked his retirement letter, so I'm printing it here, with his permission.
Congratulations, Dad!
Dear Mike:
Congratulations on your retirement!  This letter expresses our appreciation for your 39 years of service in the management of wildlife within two state wildlife agencies:  nine years with Tennessee and 30 years with Washington State.  Your dedication has been outstanding, and the people and wildlife resources of the state of Washington these past 30 years have greatly benefitted from your commitment and talent.  It is impossible to summarize in a short letter your successful career; but we have listed some highlights below.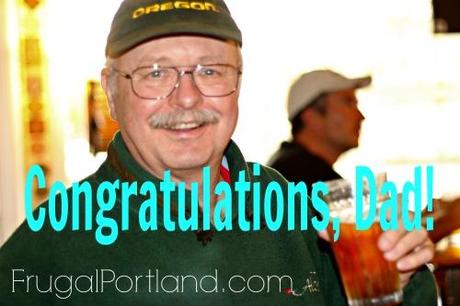 Congratulations, Dad!
You received your Bachelor of Science in Wildlife Research at Colorado State University (CSU) in 1972 and your Master of Science degree in Natural Resource Administration, also from CSU, in 1974.  From there, you accepted your first career position in May 1974 as the Region III Wildlife Communications Coordinator for the Tennessee Wildlife Resources Agency..  There you were responsible for coordinating the public relations work of the wildlife officers in 24 counties.  You produced weekly news releases, weekly TV show segments and a variety of other public service announcements.  After three years in that position, you promoted to the Chief of Information for the Tennessee Wildlife Resources Agency where you successfully served for six years, also serving as editor of Tennessee Wildlife magazine.  You also entered national leadership roles as President of the Association of Conservation Information in 1981 and Chair of the the International Association of Fish and Wildlife Agencies (IAFWA) Communications Committee in 1982. For your efforts at communicating the need for a license increase, IAFWA awarded you their highest award for communications, the Ernest Thompson Seaton Award, in 1979.
In the fall of 1983, you decided to move out West to work for the Washington Department of Game in an Exempt Position as the Manager of the Information and Education Program for the Director's Office.   In 1984, you lead the hiring of 9 positions to conduct a robust I&E program, including a designated staff position in each region, and oversaw the Hunter Education program and Washington Wildlife magazine.
In March 1987 you took advantage of a change in federal law (Sport Fish Restoration Act) which for the first time, allowed funding of educational activities about fish and fishing. As the Aquatic Education Program Manager, you created the department's first (and one of the nation's first) program, dedicated to recruiting hundreds of volunteers to teach the joys of fishing and a healthy aquatic resource to Washington's youth.  In cooperation with the USFWS and the IAFWA, you created the national Aquatic Resources Education Association (AREA) and served as its first President from 1994-96.  You also were tapped to be Chair of the national Recreational Boating and Fishing Foundation's (RBFF) Education Task Force 2 on "Education People on How and Where to Fish and Boat."  A major accomplishment of this task force was the creation of the Best Practices in Boating, Fishing and Aquatic Resources Education materials. At home, your efforts resulted in 4-side interpretive kiosks being installed at 120Department of Game hatcheries.
With the merger of the former departments of wildlife and fisheries in 1994, you lead the combined efforts of the two education programs as the Ecosystems Education Coordinator.
With the administrative change to move education efforts back into their respective programs (Wildlife and Fish) you became the Watchable Wildlife Section Manager in the fall of 1997.  It was in this role where you lead the introduction and successful passage of legislation authorizing five wildlife-themed background license plates, with the Bald Eagle Background Plate dedicated to wildlife viewing activities.  This plate continues to dominate sales of background plates and provides a significant stable revenue source for the Wildlife Program. To date, over $1,000,000 in revenue has been generated from the sale of the Bald Eagle plates.  All five plates together have raised over $3.2 million in revenue for the Wildlife Program.
Additionally, you partnered with dozens of other entities to host six conferences to teach local governments and others how to promote wildlife-related tourism and events. You wrote and lead the creation of the legislatively-mandated Wildlife Viewing in Washington: Strategic Plan Report to the Legislature, March 2004. Your success lead to keynote speaking engagements at the national Watchable Wildlife Conference and for the tourism conferences of California, Idaho and Yukon Environment. You received and managed  a legislative appropriation of $500,000 in capital funds to develop 14 wildlife viewing projects on WDFW Wildlife Areas; and $280,000 to develop wildlife viewing materials for visitors traveling through Washington to the 2010 Winter Olympics in Vancouver BC. According to the USFWS and the Bureau of Census, annual expenditures on wildlife viewing activities nearly doubled in Washington during this period, from $1.6 billion in 2006 to $3.2 billion in 2011.
In 2011, you were tapped to serve as a member of the Wildlife Program's senior staff where you served as a division manager role, to support outreach efforts in the Lands, Diversity and Game Divisions.  During this time, you made significant investments in volunteer coordination and citizen science partnerships, including overseeing the launch of citizens to collect biological data and conduct photo-point monitoring on Department lands and helped institute the use of volunteer management software for the agency.  In addition, you wrote a Cougar Outreach and Education Plan, provided extensive training to staff, and "produced" several public meetings and the first Department public webinar on wolf conservation and management.  Your final day of state service was October 1, 2013.
Mike, you are very well liked by your peers for your hard work, writing and speaking abilities.   An attribute that folks will always remember you by, is that you truly supported staff and were very responsive to the people you supervised.  You have always been creative and people-oriented.  You've understood the power of partnering with volunteers and you've had a firm understanding that good public relations is built on genuine relationships with individuals.
We greatly appreciate your contributions to the natural resources of the state of Washington and to the Department.  Congratulations on your success and your well-earned retirement!