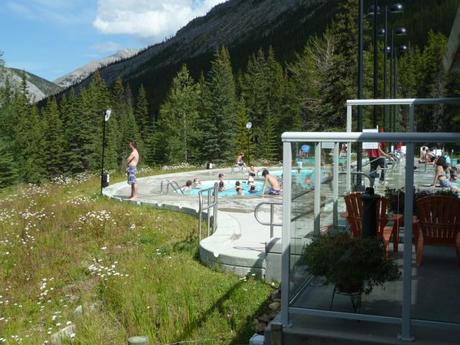 Miette Hotsprings located in Jasper National Park in the Canadian Rockies are the hottest mineral bath in the Canadian Rockies.  After a day of scrambling starting from the Jasper Tramway the day before, my muscles were aching and the Miette Hotsprings were calling my name.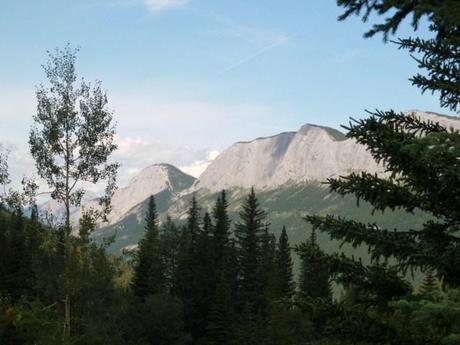 Mountain scenery surrounds Miette Hotsprings
Miette Hotsprings comprises four pools, two hot pools that are kept at a temperature of 40C (104 F) where I lingered for some time before a really quick dip that lasted all of about 3 seconds in the cold pool at a chilly 7C (45 F).  If you need a break from the water, there are lounge chairs and a snack bar.  I spent most of my time soaking in the hot mineral baths enjoying the spectacular mountain views.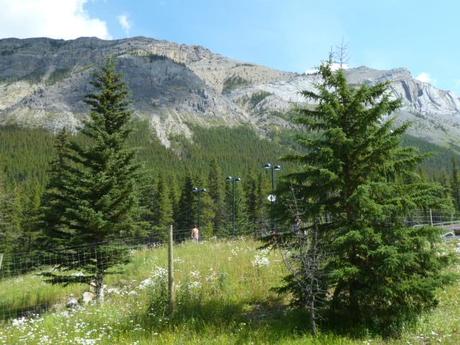 Several hikes of varying degrees of difficulty also lead from the Miette Hotsprings parking lot.  While I haven't gone on any of these hikes yet I plan to try one  on my next visit, then head to the hotsprings for instant relief.
Getting to Miette Hotsprings is also enjoyable.  Its located 61km east of the town of Jasper, approximately a 45 minute drive and is known as one of the best places to see wildlife in the park.  We saw a huge elk along route and in the windy road of the Fiddle Valley several of Miette Hotsprings infamous residents…big horn sheep!  Whenever you tell anyone that you're going to Miette Hotsprings the response is always the same "watch out for the big horn sheep."  We saw several as we neared Miette Hotsprings slowly wandering along the road and in no hurry to move for a measly car.  This was their turf and they knew it.
As we drove into the parking lot, we saw several more and yet even more when we left, including several adorable lambs.  For visitors wanting a virtually guaranteed chance of seeing big horn sheep, Miette Hotsprings is as good as it gets.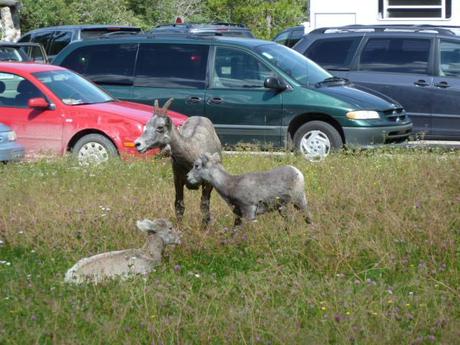 The infamous residents of Miette Hotsprings - I can't blame them for wanting to call this place home.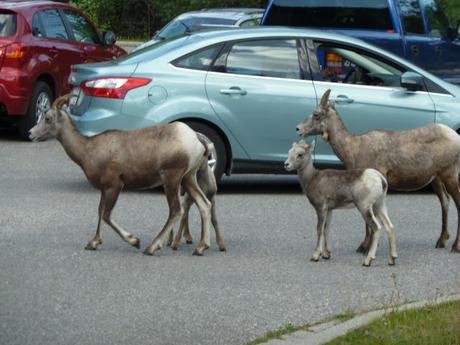 The infamous residents of Miette Hotsprings are not shy, but be sure to give them their space and of course don't feed them which is illegal.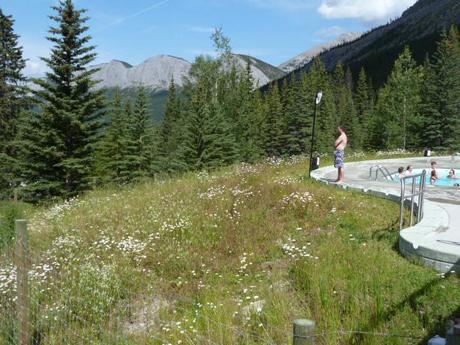 How can you not feel relaxed in this picturesque setting?
The soothing mineral springs are the perfect place to soak sore muscles and for some R&R while taking in the spectacular scenery.  I left feeling very relaxed.
For more information see Parks Canada – Miette Hotsprings.
Disclaimer:  We received two complimentary passes to Miette Hotsprings, but all opinions expressed are my own.  I have also been there previously as a paying customer.