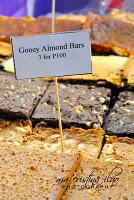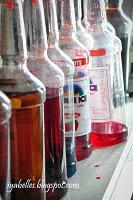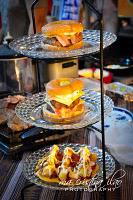 A few friends took me to the Midnight Mercato last week to celebrate my birthday. I have been longing to visit the place after having read posts from various popular local food blogs. I thought it was a nice place to go on a food trip and a photo trip at the same time.

My group arrived at about 11pm, so the tents were already packed with hungry people. I had the chance to take a few shots of some interesting stuff being sold in the place while we patiently waited to chance upon a few available seats. It was quite hard because I had to struggle between getting a good view of the food and getting out of the way of other buying customers. Here are some of the stuff which I found interesting after I scouted the place.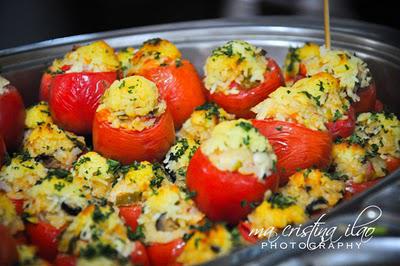 Stuffed Tomatoes (with cheese and mushroom risotto)
4 pieces for P100
The stuffed tomatoes looked really good. Cheese and mushrooms just aren't included in my list of favorites so I didn't try this.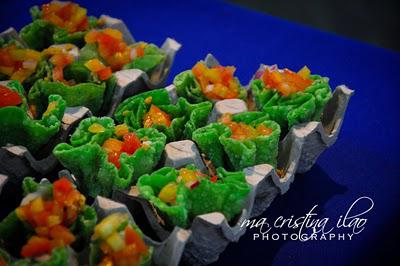 mini tacos
6 pieces (1 tray) for P60
These ones with green-colored taco shells are mini tuna tacos. I like how the fillings got neatly stuffed into these tiny taco shells. Good job Taclings :)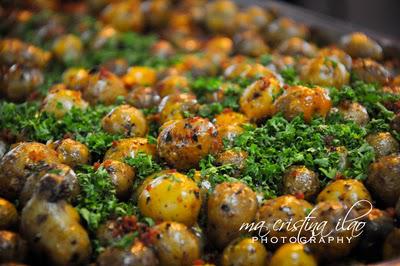 Cheesy Potatoes
P50 per serving
These cheesy potatoes looked so cute and photogenic that I couldn't pass the opportunity to get a close-up shot. I have heard lots of good reviews  about this from food enthusiasts who frequent the Midnight Mercato.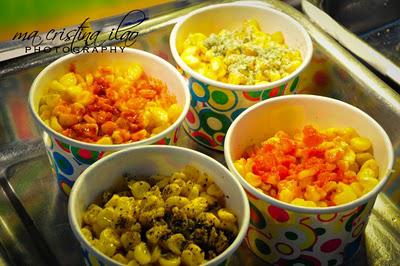 Flavored Corn (Cheese, Sour Cream, Barbeque, Pepper)
I like the idea of using sour cream, barbeque and pepper flavors to add a twist to the traditional cheese-flavored corn.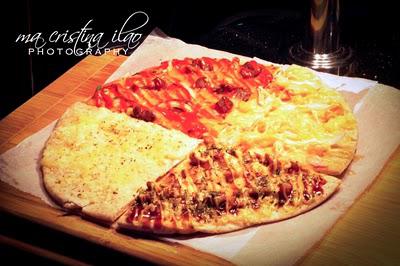 Four Seasons Pizza
Stop Over Pizza & Pasta is a stand-out. The food display provided customers with various gourmet pizza flavor choices. Customers may choose from Terimayo Chicken, Four Cheese Herb & Garlic, Bulgogi, Margherita, Pesto Chicken, Seafood Wasabi, Smokey Tinapa and Texas Barbeque Beef. For those who are having a hard time in choosing which flavor to try, their Four-Seasons pizza is a must.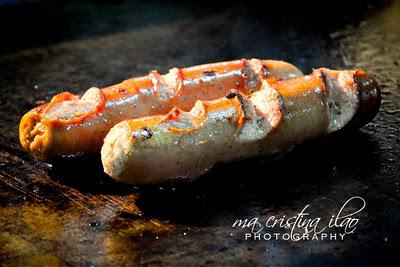 Schublig
buy one take one (on stick) P130
buy one take one (with bun) P150

One of the food stands offers sausages of any kind at a standard price. For only P130 you can get two sausages (of any kind) on stick. For P150, you can get two sausage sandwiches (of any kind) which you can garnish with tomato catsup, mayo and mustard. For an additional P20, you may garnish your sausage sandwich with onions and pickle relish as well.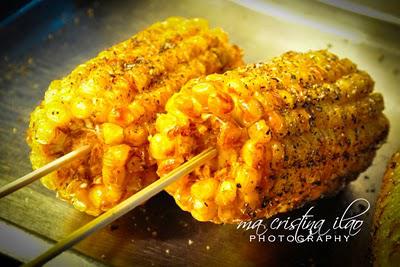 Peppered Corn On A Cob
P20 each

I'd like to call this "corn on a cob with a twist". The sellers took a good break from the traditional corn on a cob (with butter and salt).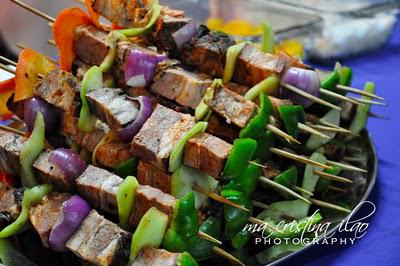 Beef & Pork Kebab
P60-80 per stick

These are the largest kebabs I've seen at 
Midnight Mercato
. The sellers serve them garnished with Satay sauce and with Biryani Rice.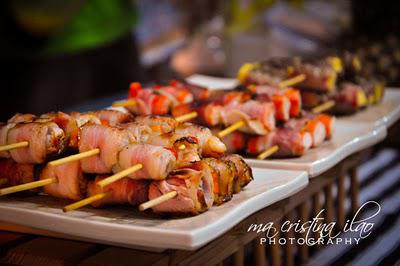 Chicken/Pork Yakitori P30 per stick
Prawn/Kani Bacon P45 per stick
Jap-Ok! offers marinated food selections which are grilled over charcoal. These stuff remind me of Nanbantei of Tokyo. I just wish they served bacon-wrapped asparagus as well.
I had a nice time taking food shots. I thought it was a nice way to review which items I wanted to buy after surveying all the food stands. After less than an hour, we were able to find a clean table and a few chairs. However, it took us just a few minutes to finish what we bought :D
I would definitely suggest 
Midnight Mercato to anyone who's up for a food trip with minimal budget. Here, you can find good finds at much lower prices. It is advisable to arrive either early (10pm) or late (1am) though. It's quite hard to find vacant seats at around 11pm to 12:30am because of the large volume of people during those times.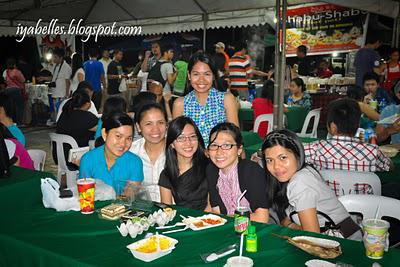 me and my girls
Midnight Mercato
(Weekend Night Food market)
Operating Schedule: Fridays and Saturdays 10pm - 3am
Location: 34th St & 8th Ave., Bonifacio Global City 
Website: http://www.midnightmercato.com/