On May 19, 2020, Microsoft announced the availability of Surface Hub 2S in India. This latest Surface device by Microsoft can work as a digital whiteboard, meeting platform, as well as a teamwork collaborative computing device.
Surface Hub 2S is a sleek interactive device that can be moved from one space to another easily. It has 4K+ resolution screen with over 50% faster graphics, and 30% better power efficiency than the original Surface Hub.
Talking about the Surface Hub 2S, Mr Rajiv Sodhi, COO, Microsoft India, said. "We've expanded our Surface family to include not just devices designed for individuals, but also devices purpose-built for teams. In view of the current environment and more teams working remotely, the Surface Hub 2S seamlessly blends into any workspace. The Surface Hub 2S gives teams the mobility and flexibility to collaborate where they work best - whether in a conventional meeting scenario for brainstorms, or virtual meetings powered by Microsoft Teams. For businesses looking to bridge the gap and address different workstyles, the Surface Hub 2S is the perfect addition to enhance productivity, and as a boost to turn innovative ideas to reality,"
So let's check out what makes Surface Hub 2S a good device for new-age work environments.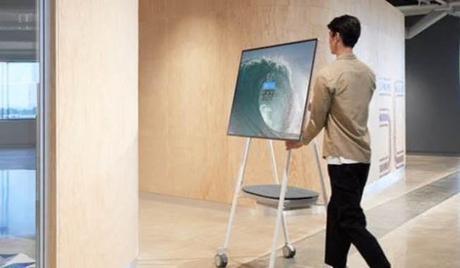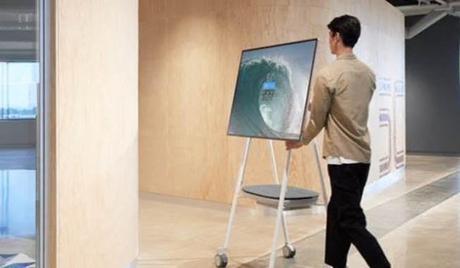 Highlights of Surface Hub 2S
Steelcase Roam:
To ensure flexible usage of the new Surface Hub 2S in any space, Microsoft worked with Steelcase to design Steelcase Roam. This is a mobile stand and wall mounting system. Steelcase Roam can make it easy for you to quickly move and fix the Surface Hub 2S in any office space.
"We joined forces with Microsoft to explore the future of work. Our work together is built on a shared commitment to put people at the centre of how place and technology intersect to empower individuals and teams to do their best work," says Praveen Rawal, Managing Director, India, SAARC, APAC Design Applications, Steelcase Asia Pacific. "We are thrilled to introduce our latest innovation derived from this powerful partnership to India, giving individuals and teams the freedom to collaborate whenever and wherever ideas strike."
When used together, Surface Hub 2S and Steelcase Roam support active collaboration by allowing teams to move, stand, gesture, and become better engaged in their collaborative work.
Productivity features:
Microsoft Surface Hub 2S comes loaded with Windows 10, Microsoft Teams, Skype, Office 365, Microsoft Whiteboard, and the intelligent cloud. It has PixelSense 4K+ 50-inch multi-touch display for superior pen and touch experience. As per Microsoft, this is the highest resolution compared to any device in its class. Surface Hub 2S is 40 percent lighter and has the capability of 50 percent faster graphics performance than the original Surface Hub. To facilitate clearer audio visual experience during Teams and Skype meetings Surface Hub 2S has full-band 8-element microphones, two-element front-facing stereo speakers, and 4K-capable camera.
Microsoft Whiteboard:
Equipped with Microsoft Whiteboard, Surface Hub 2S allows users to collaborate on a shared digital canvas from almost any device. This makes it easy for people to pick up where they left off, keeping teams in the flow.
Surface Hub 2S has built-in artificial intelligence feature which can help users to better express their ideas in less time. This AI feature gives the device ink to shape and text ability, supported by a cloud-based, virtual canvas.
Design:
The new Surface Hub 2S is slimmer and 40% lighter than the original Surface Hub. It also has the thinnest edge and smallest bezels in its class and its display is 60 percent thinner than its predecessor.
This slim shape helps the Surface Hub 2S to fit easily into any space. Thus, it can be used in a large conference room as well as a compact huddle space. The device gives teams the flexibility to use this shared screen wherever they want, transforming it into a mobile computer perfect for collaborative work by teams.
Surface Hub 2S Technical Specifications:
Storag e
Solid State Drive (SSD) 128GB M.2 2230 [1] System software uses significant storage space. Available storage is subject to change based on system software updates and apps usage. 1 GB = 1 billion bytes. See Surface.com/Storage for more details.
Microsoft Surface Hub 2S price in India:
Surface Hub 2S is priced at INR 11,89,999 in India. This includes a Surface Hub 2 Camera and a Surface Hub 2 Pen. The Steelcase Roam mobile stand is priced at INR 1,17,500. Both will be available via authorised Hub resellers.
To learn more about Surface Hub 2S, visit www.microsoft.com/en-sg/surface/business/surface-hub-2
Subscribe to Blog via Email
Enter your email address to subscribe to this blog and receive notifications of new posts by email.