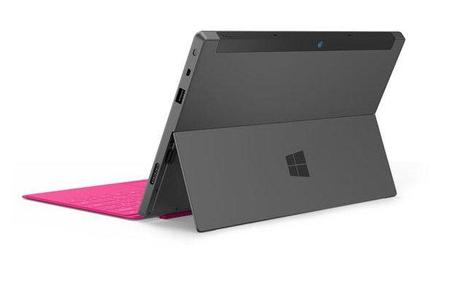 Hey Guy's
Yesterday Microsoft unveiled its new Tablet, called Surface. It is aimed to target iPad consumers and steal Apple's tablet glory!
2 vs 1
Microsoft have 2 tablets out. There is one for Windows 8 and one for Windows RT. The Windows 8 version will be more expensive and will sync and work with other Windows 8 phones and pc's. The RT version weighs 676g, is 9.3mm thin and comes with what Microsoft calls a 10.6", 16:9 ClearType HD display. The battery's a 31.5W-h model, you can choose between 32GB and 64GB of internal memory, and connectors include MicroSD, USB 2.0, Micro HD VIdeo and 2x2 MIMO antennae for better WiFi performance.
The other is called Slate Pro and is heavier and thicker. It weighs in at 930g and is about 13.5mm thick. This one will have ClearType display with "Full HD", which implies 1920x1080 resolution. The battery's increases with the size too, at 42W-h, and the connectors include MicroSDXC, USB 3.0, Mini DisplayPort and the same antennae. Storage options for the big Surface are 64GB and 128GB.
Both tablets have front and back facing cameras, stereo speakers and dual microphones made especially for Skype, and their cases are made of VaporMg, a magnesium alloy that's very light and strong. It also comes with a handy magnetic clip on keyboard which has been rated highly for its super quick processing.
Paper touch?
The Windows 8 Pro version supports pen input at 600dpi resolution, and there's a hand block so you don't lose focus when your palm touches the screen. The pen can be used just like a real one, with digital ink annotating documents or filling in forms. Although Microsoft are confident in these claims I think it is highly unrealistic and will not work properly.
Pricing
Unfortunately for someone like me, expensive prices will be a guarantee. In America the standard RT version will cost $600! and the Pro will be around $800, which roughly translates to £381 and £508
Will it Kill the box PC's and the Laptops?
My answer to that would be HELL NO! Although a keyboard is included anyone would much prefer a PC. The processor is most likely to be faster, the graphics would be better.. everything but portability. Below is my favorite YouTube news reporters view.. Phillip De Franco!
Facebook: http://www.facebook.com/profile.php?id=100003545315057
Youtube: http://www.youtube.com/user/imthekian?feature=mhee